BASSETERRE, St Kitts, CMC – A fighting knock of 40 from skipper Merissa Aguilleira was the only sparkle as West Indies suffered a batting collapse and lost to South Africa by 80 runs in the first of their five match one-day International series at Warner Park here yesterday. Aguilleira cracked seven fours in her gutsy innings, facing 43 balls, to lead a Windies fight back as the home side spluttered to 126 all out in 35 overs chasing the visitors 206 for eight off 50 overs.
The collapse began without a run on the board after losing the prized scalp of Stafanie Taylor for a duck to Marizanne Kapp, the slow medium bowler.
Kapp, who finished with two wickets for 17 runs made early inroads by also removing frontline batter Juliana Nero for seven.
At one stage, Aguilleira's side was precariously placed at 24 for the loss three wickets and her dogged efforts to spark a middle order recovery were futile.
Apart from Deandra Dottin who scored 26, Kycia Knight 19 and Shanel Daley 14 no other West Indian batter got into double figures.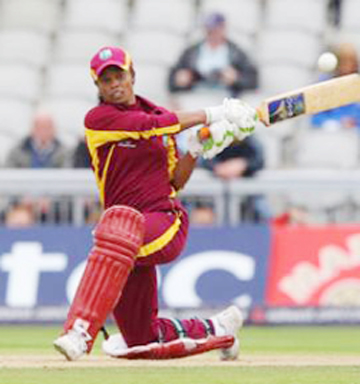 19 year old leg break bowler Van Niekerk was a thorn in the side of the middle order  snapping up wickets and cleaning -up the tail enders as well.
Niekerk bagged five for 28 runs including the important wickets of Dottin and Shemaine Campbell.
Earlier, powerful top order batting, including a half century from opener Trisha Chetty, helped setup a challenging South African total of 206.
Chetty top scored with 57 which included five boundaries while Mignon du Preez scored 48, and Shandré Fritz 24.
The leading West Indian bowlers were Shaquana Quintyne 2-30 and  Shanel Daley 2-33.
West Indies and South Africa women meet in the second one-day international tomorrow at Warner Park.
Scoreboard
SOUTH AFRICA
S Fritz run out                                                        24
+T Chetty b Daley                                                57
*M du Prez c and b Taylor                                48
M Kapp c Mohammed b Daley                       10
S Benade run out                                                   5
C Brits c Daley b Quintyne                              11
D van Niekerk c Smart b Mohammed          9
Y Potgiter c Nero b Quintyne                      17
C Tyron not out                                                   3
S Loubser not out                                            10
Extras (b2, lb2, w6, nb2)                           12
TOTAL (8 wkts, 50 overs)                    206
Did not bat: Marcia Letsoalo
Fall of wickets: 1-49, 2-118, 3-147, 4-150, 5-165, 6-165, 7-185, 8-188.
Bowling: Selman 3-0-17-0, Smart 4-0-27-0, Dayley 9-0-32-2, Taylor 10-1-32-1, Mohammed 7-0-28-1, Quintyne 10-0-30-2, Campbell 6-0-25-0, Dottin 1-0-11-0.
WEST INDIES WOMEN
S Taylor c wkp Chetty b Kapp                            0
J Nero c wkp Chetty b Kapp                               7
S Daley c wkp Chetty b Benade                       14
D Dottin c Benade b van Niekirk                    26
*+M Aguilliera c du Prez b Tyron                  40
K Knight lbw b Benade                                        19
S Campbell st Chetty b van Niekerk                 4
S Quintyne b van Niekerk                                     0
A Mohammed b van Niekerk                              0
T Smart b van Niekerk                                           0
S Selman not out                                                       8
Extras (lb3, w5)                                                      8
TOTAL (all out, 35.3 overs)                           126
Fall of wickets: 1-0, 2-20, 3-24, 4-89, 5-92, 6-102, 7-102, 8-102, 9-104, 10-126.
Bowling: Kapp 7-1-17-2, Benade 7.3-0-30-2, Tyron 8-1-26-1, Lettsoala 2-0-20-0, Loubser 4-3-2-0, van Niekerk 7-2-28-5.
Result: South Africa won by 80 runs.
Series: South Africa lead five-match series 1-0.
Toss: South Africa.
Around the Web