At the end of 2012 Nicolette Fernandes saw her career ranking move from number 47 in the World to number 32.
The move represented a not so small step forward in the career of the Guyanese squash player which has had its fair share of ups and downs, the downs being mainly through injuries.
Among the high points of Fernandes career last year would be her five set victory over Deon Saffery of Wales in May last year in the final of the Women's Internacional Sports Open tournament in Guatemala City, Guatemala. Fernandes, who became a professional squash player in 2002,   was voted WISPA most improved female player of in 2006.
Fernandes had reached a career-high world ranked number 27 in 2006 but suffered a career-threatening injury which prevented her from competing for close to two years. She was also injured in 2011 after participating in the Pan American games in Mexico where she won a bronze medal for Guyana.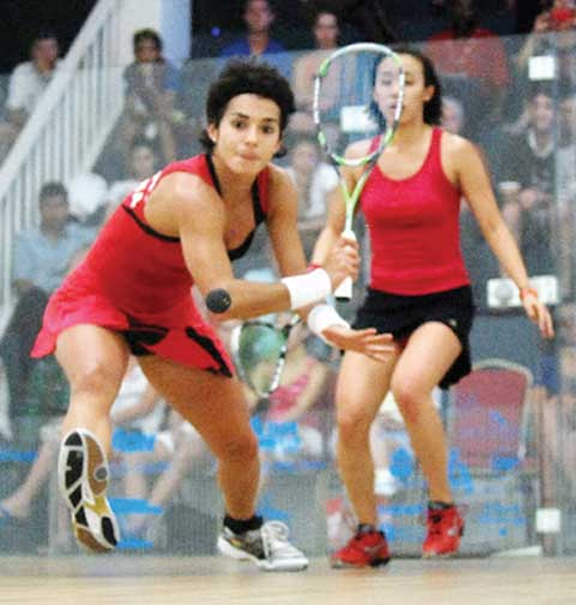 Towards the end of last year, Fernandes, participating in the World Open in the Cayman Islands scored upset defeats over World-ranked  Misaki Kobayahshi of Japan and Rachel Grinham of Australia. Kobayashi was at the time ranked number 42 in the World while Grinham is a former World number one ranked player.
The 29-year-old Fernandes, is a multiple winner of the Sportswoman-of-the-Year award and was also a recipient of the national award, the Medal of Service from the Bharrat Jagdeo administration.
In the following interview, Stabroek Sports' Yonalla Dalrymple sits down with Guyana and Caribbean Squash Queen Nicolette Fernandes in a no holds barred exclusive interview and is told that Fernandes has a burning desire to be the World's best.
    
YD:- How you would describe the year 2012 was it good or bad?
NF:- It has been a mixed year but nevertheless I'm aiming for higher ground in 2013. When you're just playing in different tournaments, you kind of just neglect all the weakness you have to work on and during my injury I really did everything I could do to almost make all those weaknesses positive. So even though the year started not so good, I played my first tournament after the injury in May and I won so that was a positive start back. I think at the end of the year it came together quite nicely in the end.
YD:– You scored a number of upsets over higher, World-ranked players at the World Squash Open in the Cayman Islands in December – Misaki Kobayahshi of Japan and Rachel Grinham of Australia – how do you feel about those two victories?
NF:- I am very happy to be among higher World ranked players and to have participated in the just-concluded World Squash Open. My ranking has been so bad lately that I tried not to focus on rankings for myself so every time I walk on the court is just like I'm playing an ordinary game or I'm practising. I mean, I'm happy to be at that level, but at the same time, I don't want to be overconfident about myself.
YD:– Do you think you are narrowing the gap between yourself and the top players?
NF: – Yes! I think I'm definitely narrowing the gap between myself and other top players.
YD: – How high do you think you can reach on the World professional circuit?
NF: – I want to be the best in the world! That's one of the reasons why I am always playing. I think now that I'm older, I'm willing to admit that my goal is to be the best and I'm going to do everything in my power to reach that goal.
YD: – How much longer do you plan to keep on competing?
NF: – I have no idea when I'm going to quit being a professional player since I love what I do. I am so happy with what I'm doing and I'm more happy doing all the work that I have to do to compete. It's not really such of a joy to do but I'm going to keep doing it until I'm no longer enjoying it but right now I don't think I will get fed up of it now.
YD: – Is playing on the World squash tour financially rewarding?
NF:- In Guyana, the mass of people don't know squash and because of that, people are not going to pump money into it as much as tennis or any other Olympic sport so in return, we as professional squash players don't earn money.
YD:- What is playing on the tour like?
NF:– It's difficult. The fact is that you are always looking at the finances and that is not enjoyable but I love it. There are some good girls out there and I get to meet so many people and see so many countries that it's all worth it.
YD:- Do you get time to train properly between competitions?
NF: – There is usually a three-month period where I train brutally hard to get super fit.
YD:– Do you get time for recreation?
NF: – squash is like a full time job. The rest of my time goes to reading novels since that is my second favorite thing to do. I mean, after training in the morning you get so exhausted you can't really do anything else so all there is to do is read; it relaxes you and helps you to function effectively.
YD:– Do you set goals and  if so, what are some of your goals for 2013?
NF: – My aims and goals for this year are to pick up from last year in getting consistent in my results as it relates to squash competitions and just keep building. I'm not really worrying on rankings. All I care about is just to keep on winning more matches.
YD: – Will you be competing for Guyana again this year and if so at what tournaments?
NF: – I'm getting prepared for the Caribbean championships which will be held in Guyana this year and I'm really looking forward to that.
YD:– What are your concerns on your health and injuries?
NF:– The previous injury has taught me to be more careful about training. I'm doing everything to prevent from being injured since the last injury has taught me some lessons so I'm not that concerned about injuries. I think my body will hold up.
Around the Web