PORT OF SPAIN, Trinidad,  CMC – Guyana overcame an indifferent batting display with a gutsy bowling performance to stun Barbados by 42 runs, and post their second win in the Caribbean Twenty20 at Queen's Park Oval here last night.
Rolled over for a paltry 108 off 19 overs after they were sent in, Guyana conjured up a magical performance in the field to bundle out Barbados for 66 – their lowest ever T20 score – and maintain their unbeaten run.
Off-spinner Steven Jacobs, playing his first match for Guyana in nearly a year, knocked over both openers cheaply as Barbados crashed to four runs for three wickets in the third over and never recovered.
Jacobs finished with two for 13 while medium pacer Christopher Barnwell chipped in with two for 11 and left-arm spinner Veerasammy Permaul two for 14, but Barbados also did themselves no favours with three catastrophic run outs.
The triumph pushed Guyana level with Barbados on eight points but they remained third on net run rate and with a game in hand.
Guyana appeared all but buried when they staggered to what seemed a poor total, after medium pacer Dwayne Smith (2-14) and left-arm spinner Sulieman Benn (2-22) produced incisive spells.
But the 2010 champions came out in a fighting mood and rocked Barbados early. Jacobs bowled Smith with the fourth ball of the innings without a run on the board after the Barbados captain played down the wrong line.
The experienced Ryan Hinds was then run out in the next over, looking for a second run on an overthrow but failing to beat Devendra Bishoo's throw to the wicketkeeper.
Further crisis followed when attacking opener Justin Brathwaite tried to pull out of a defensive prod and succeeded only in popping a simple return catch to Jacobs in the bowler's next over.
Wicketkeeper Shane Dowrich (18) and Jonathan Carter (17) repaired the damage in a circumspect 38-run, fourth wicket stand off 46 balls. Dowrich managed just one four – one of only two in the entire innings – while Carter traded mainly in ones and twos.
They looked to be pulling Barbados around when Dowrich perished, lbw sweeping at the final delivery of off-spinner Narsingh Deonarine's first over and Carter followed in the next over, lofting Barnwell down the throat of Shivnarine Chanderpaul at long off at 44 for five.
There was some controversy when Kyle Mayers, attempting a quick single, collided mid-pitch with bowler Barnwell and was run out for one with eight runs added but there was no doubt about Ashley Nurse's lbw decision as he played back to the first ball he received from Barnwell and went without scoring.
Barbados continued to collapse in a heap and their last six wickets fell for 24 runs, with Carlos Brathwaite the third run out victim after hesitating over a quick single with Benn.
Earlier, Guyana were off to a merry start, with Chanderpaul and Trevon Griffith posting 29 off 27 balls to deny Barbados any immediate success. The veteran left-hander faced 27 balls and struck two fours while Griffith hammered a four and a six in his run-a-ball 16.
Griffith capitalised on a poor opening over from speedster Fidel Edwards, in for his first match of the campaign, helping himself to a six behind square of the final delivery as the West Indies bowler conceded 16 runs.
Fiery pacer Tino Best accounted for the left-handed Griffith, bowled attempting a big shot in the fifth over and Barbados were even more jubilant in the next over when seamer Carlos Brathwaite prised out Ramnaresh Sarwan for one, cramping the  experienced Test batsman with one that nipped back, and rattling his stumps.
Chanderpaul and Deonarine (13) then stitched up the innings in a 27-run, third wicket stand as they laid the foundation for a late assault.
The experienced Chanderpaul looked in good touch, punching Best through mid on for four and collecting another four to third man off off-spinner Nurse.
Attempting to up the tempo, he holed out to deep mid-off off the last ball of the tenth over bowled by Nurse at 63 for three, triggering a slide that saw three wickets fall without a run added.
Three balls later in the next over, Deonarine missed a swing at a short one from Smith and was adjudged lbw and off the very next delivery, Royston Crandon missed a yorker and was palpably lbw.
Jonathan Foo nervously averted the hat-trick and proceeded to add 22 off 25 balls for the sixth wicket with Barnwell (12). The right-handed Foo cleared the straight boundary with Benn but attempting to repeat the stroke off the next delivery, edged a head high catch to Smith at slip.
Yet again, Guyana collapsed and this time lost their five wickets for 23 runs in the space of 23 balls.
Benn, too, found himself on a hat-trick when he plucked out Jacobs first ball to a catch at cover by Edwards off a leading edge and though the beanpole spinner missed out, Barnwell found Mayers in the deep off left-arm spinner Hinds to ensure the slide continued.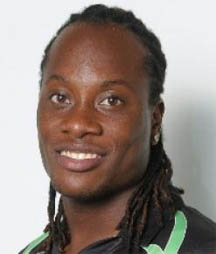 GUYANA
T Griffith b Best                                          16
S Chanderpaul c Mayers b Nurse       23
R Sarwan b C Brathwaite                         1
N Deonarine lbw b Smith                     13
C Barnwell c Mayers b Hinds              12
R Crandon lbw b Smith                           0
J Foo c Smith b Benn                             11
S Jacobs c Edwards b Benn                  0
+D Christian c Smith b Edwards      12
*V Permaul run out                                5
D Bishoo not out                                      2
Extras (lb6, w6, nb1)                            13
TOTAL (all out; 19 overs)                108
Fall of wickets: 1-29 (Griffith, 4.3 overs), 2-36 (Sarwan, 5.4), 3-63 (Chanderpaul, 10), 4-63 (Deonarine, 10.2), 5-63 (Crandon, 10.3), 6-85 (Foo, 14.4), 7-85 (Jacobs, 14.5), 8-89 (Barnwell, 16), 9-100 (Permaul, 18), 10-108 (Christian, 19)
Bowling: Edwards 3-0-26-1 (w1, nb1), Brathwaite 4-0-15-1, Best 3-0-12-1 (w1), Smith 3-0-14-2, Nurse 1-0-8-1, Benn 3-0-22-2, Hinds 2-0-5-1.
BARBADOS
*D Smith b Jacobs                                             0
J Brathwaite c & b Jacobs                              3
R Hinds run out                                                  1
J Carter c Chanderpaul b Barnwell          17
+S Dowrich lbw b Deonarine                     18
K Mayers run out                                              1
C Brathwaite  run out                                   10
A Nurse lbw b Barnwell                                0
S Benn c Sarwan b Permaul                         9
T Best st & b Permaul                                    1
F Edwards not out                                         0
Extras (lb1, w5)                                              6
TOTAL (all out; 17.2 overs)                 66
Fall of wickets: 1-0 (Smith, 0.4 overs), 2-4 (Hinds, 2), 3-4 (JK Brathwaite, 2.2), 4-42 (Dowrich, 10), 5-44 (Carter, 10.4), 6-54 (Mayers, 12.4), 7-54 (Nurse, 12.5), 8-57 (C Brathwaite, 14), 9-66 (Benn, 15.2), 10-66 (Edwards, 17.2)
Bowling: Jacobs 4-1-13-2 (w1), Crandon 3-0-17-0, Permaul 3.2-1-14-2, Bishoo 3-1-6-0, Barnwell 3-0-11-2, Deonarine 1-0-4-1.
Result: Guyana won by 42 runs.
Points: Guyana 4, Barbados 0.
Man-of-the-Match: Steven Jacobs.
Toss: Barbados.
Umpires: Peter Nero, Verdayne Smith; TV – Nigel Duguid.
Around the Web