PORT-OF-SPAIN, Trinidad,  CMC-Former West Indies batsman, Wavell Hinds, has been elected to serve a full term as president of the West Indies Players Association (WIPA) following his tenure as interim president.
Hinds, interim president for nine months last year, was elected unopposed as well as the rest of the executive at the Annual General Meeting of the players body.
"I am deeply committed to the work which WIPA has been and is doing on behalf of our membership," Hinds said in a press statement issued by WIPA.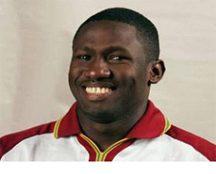 "And I look forward to working with our new executive, along with our staff in furthering our objectives".
Hinds, a member of WIPA's Executive since 2002, replaced the incumbent Dinanath Ramnarine who stepped down last year.
He says high on WIPA's agenda will be issues surrounding retainer contracts, improved fees for first-class cricketers and negotiations with Verus International and the WICB regarding the proposed Caribbean Premier League (CPL).
"Of course, there are also the ongoing and pending legal matters which are to be decided and heard during the upcoming year." Said Hinds, who served as treasurer for four years, and vice-president for six years under Ramnarine.
The new members of the WIPA executive are former West Indian fast bowlers Patterson Thompson and Nixon McLean, from Barbados and St Vincent respectively, along with Wayne Lewis, the hard-hitting former Jamaican opening batsman.
"I consider it an honour to be nominated, and look forward to working on behalf of the players in whatever way I can," said Thompson, a commercial airline pilot.
"I strongly believe in the value that the Players' Association provides to all first-class cricketers in the region."
Around the Web