Port-of-Spain, Trinidad – Guyana batting stalwart Shivnarine Chanderpaul says he's excited and looking forward to today's showdown against Trinidad and Tobago. All the tickets for the game have been sold out long before the match-day and a record crowd of over 20,000 is expected at the Queen's Park Oval.
This is the first time in West Indies cricket history a regional match has been sold out in advance. First ball is 8 pm (7 pm Jamaica Time). The other match today will feature traditional rivals Leeward Islands and Windward Islands at 4 pm (3 pm Jamaica Time).
Chanderpaul is the most experienced and successful player in the tournament and is presently at Number 2 in the ICC Test Match batting rankings. He made his debut for Guyana back in  1992 as a slim teenager, and he has played a record 146 Test matches for the West Indies in close to two decades at the international level.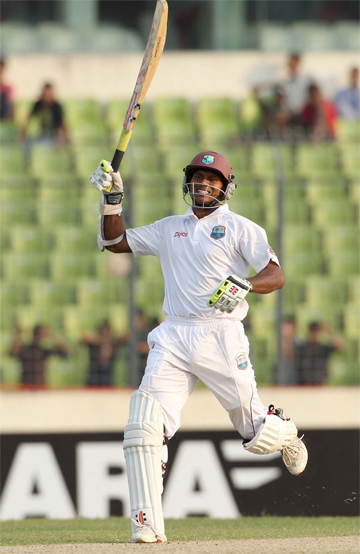 "This will be a great show! It is really exciting to hear that the match sold out almost two days before we have to play. This has never happened before, at least not since I have been involved in Guyana and West Indies cricket, and this is a wonderful thing. I am really looking forward to playing in the match. This will be great for the game of cricket in the West Indies," the 38-year-old told WICB Media yesterday.
"We know there will be a lot of Trinis in the stand supporting their team and that's fine. They are the home team and that's part of home advantage. But there are also quite a few Guyanese living here so we expect some support as well. A lot of people have also flown in to see the tournament and that will add to the support."
Chanderpaul added: "The way things have been going with our games and the Trinidad games, the people have really caught on and we knew they would come out and support the match. We have played well and we managed to get two hard-fought wins. The 'fellas' have been working really hard and we will come out looking for a win tomorrow. We are proud of what we have done so far but there is still a long way to go."
The former Guyana and West Indies captain has been the anchor at the top of the order in both victories so far. Batsmen have found scoring a challenge and Chanderpaul's contributions have been crucial for Guyana – 38 in the helter-skelter run chase against Combined Campuses and Colleges; and 23 in the low-scoring triumph over Barbados. The left-hander, who has played cricket at every major cricket venue in the world, said a packed Queen's Park Oval is sure to offer a lively atmosphere.
"There is always a buzz at the ground whether you play for Guyana or for the West Indies.  The atmosphere is always lively and the fans always get the chance to offer advice to the players. This helps to add a unique kind of flavour that we have here in West Indies," he said.
Going into today's match Guyana have a 100 percent record and are on eight points, while Trinidad and Tobago have nine points from wins against Leewards and Combined Campuses and Colleges and wash out against Jamaica. Trinidad and Tobago and Guyana are the two most successful teams in the Caribbean T20. Guyana won the inaugural tournament in 2010 while the Trinis won back-to-back titles in 2011 and 2012.
Fans in the region can watch the entire tournament live on ESPN Caribbean – the broadcast partner of the West Indies Cricket Board. Additional coverage is available on ESPN's Networks in the UK, Australia, Middle East and Africa. In Canada, fans can see the action via the Titan GSG Media Corporation.
Comments

MOUNT MAUNGANUI, New Zealand, CMC – West Indies Under-19s' title defence ended in shambles with a heavy 76-run defeat to South Africa Under-19s, but controversy accompanied their disappointing exit from the ICC Youth World Cup here Wednesday.

NEW DELHI, India, CMC Superstar Chris Gayle headlines several top-tier West Indies players who will join over 1 000 players in the highly anticipated Indian Premier League auction scheduled for month end.

BELFAST, Ireland, CMC Two-time former 50-overs champions West Indies maybe the highest seeded side in the ICC World Cup qualifiers but they hold no terrors for minnows Ireland.

With only one day remaining for the registration process of the Guinness Greatest of the Streets West Demerara/East Bank Demerara zone, approximately 24 teams have submitted their participation forms for the qualifying stages.

Coach of the already crowned champions of the 2017/18 edition of Cricket West Indies Regional four-day first-class championships, Esaun Crandon, has suggested that there will be little tinkering to the squad set to take on the Trinidad and Tobago Red Force in their final round match, which begins at the Guyana National Stadium tomorrow.