Local golfers will tee off from noon today in the first tournament of 2013 a Memorial one in honour of the late former professional player and coach Basil Sukhram at the Lusignan Golf Club course.
The one-day tournament is being sponsored by golf enthusiast and former Guyana Open champion Alfred Mentore through his Real Estate Company on North Road.
Close to 35 golfers have registered to take part to show their appreciation to the late Sukhram, who was a stalwart of the sport locally.
Sukhram, the father of national ladies champion, Christine Sukhram, died in 2009 at the age of 54 year when he suffered a heart attack while playing a round at the Lusignan Golf Course.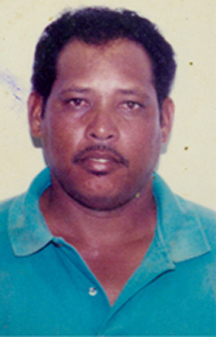 He had just teed off at the fifth hole when he suffered the attack.
His daughter, Christine said that her father was very instrumental in her development since she started playing golf at the tender age of six years while Basil was a coach in Grenada. Christine will be among the golfers lined up to compete today.
Also expected to compete are Guyana Open Men's champion Avinash Persaud, LGC President Jerome Khan, Kishan Bacchus, Mentore, Patrick Prashad, Chatterpaul Deo, Sookram Deosarran, Clifford Reis, Mark Lashley, Troy Cadogan, Maurice Solomon, Carlos Adams, Rawle Moore, William Walker, Colin Ming, Mike Gayadin, Dr. Ram Singh, Muntaz Haniff, Fazil Deo, Gavin Todd, Joaan Deo, Mohanlall  Dinnanauth, Mike Mangal, Brian Glasford, Imran Khan, Roy Cummings, Brian Hackett and Robert Hanoman.
Tee off is at 12:00 hours.
Members of the LGC will also observe one minute's silence in honour of former Club Captain Sydney Cummings who died two weeks ago. Cummings was laid to rest last Friday following a church service and cremation. He was 91 year old.
Around the Web