Alpha United President Odinga Lumumba yesterday made good on his pledge to Buxton United to hand over the remaining $400,000 to them on completion of their dream run of the 23rd Kashif and Shanghai Tournament on New Year's Day.
Lumumba had promised to reward the team with $1M if they won the tournament.  Previously, he donated $600,000 in equipment to the team after they needled his side, one-nil in the semi-final match.
"This is to congratulate the players of Buxton United for a solid victory in the Kashif and Shanghai final," Lumumba said at the presentation ceremony held at the Water Chris Hotel.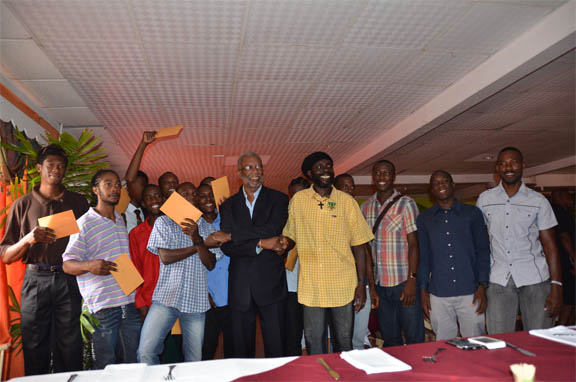 "Their victory was good for the village, the people of the East Coast and underdogs. It says that any team that works hard and play together can win, I made a commitment to them after the semi-finals and today I'm honouring that commitment," he said.
Buxton United Coach Herbert McPherson expressed his gratitude to Lumumba for honouring his commitment and revealed that his team will start preparing for the Super League which they intend to win.
Buxton United defeated Amelia's Ward, six-five on penalties to win their first title in the longstanding tournament. Dwain Jacobs, captain of the East Coast side was judged MVP of the tournament and drove off with a motorcar.
Around the Web