Winners of the 23rd Kashif and Shanghai Football Tournament, Buxton United, were formally presented with their top honours yesterday at the Buxton Ground as did their Captain, and MVP of the tournament  Dwain Jacobs.
The team, which won the tournament for the first time in the history of the long standing tournament, was formally presented with the champion's trophy while Jacobs drove off with a Toyota Allex for earning the Most Valuable Player honours.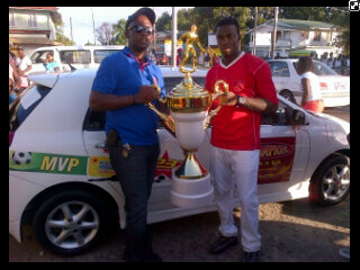 On the road to the finals, Buxton United trounced Winners Connection three-one, knocked out 2009/2010 champions, Western Tigers, one-nil and  needled the star-studded favourites, Alpha United one-nil.
Buxton United then completed its dream run of the tournament on New Year's Day by out gunning Amelia's Ward United in a penalty shootout to clinch the trophy and $4M first prize.
Jacobs scored two goals and assisted on others.
Around the Web