– Says Mark Austin
With the paperwork completed the boxers who will appear on the Guyana Boxing Board of Control (GBBC) first promotional card dubbed Guyana Fight Night on January 27 at the Cliff Anderson Sports Hall (CASH) are ready to swing into action.
The contract signing was finalized on Friday at the office of GBBC president Peter Abdool on Avenue of the Republic.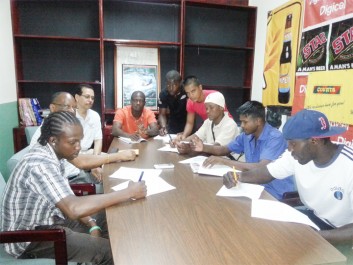 In what should be the night's main event, Gladwyn Dorway and Mark Austin will battle over 12 rounds for the junior middleweight title of Guyana while Charlton Skeete will face Dylan Allicock in a super bantamweight bout over four rounds and Richard Williamson will take on Orlan `Pocket Rocket' Rogers in a bantamweight clash over six rounds.
The other bout will be a catch weight affair between Kwesi Jones and Shawn Cox over 10 rounds a bout which forced Abdool to remark…"This again should be a good fight."
Austin has expressed confidence that he can defeat Dorway and when asked by Stabroek Sport what convinced him that he defeat Dorway he stated that he had seen him fight before and was convinced from that minute that he could knock him out.
"First thing, he is not a better fighter than me. I see he fight before and he didn't impress me. He can't come near me. I'm coming with vengeance so he better be prepared," Austin warned.
"I hear he break my friend nose (David "Gym Mate" Thomas) so I bring my nose now and we will see in the end," he added.
Dorway, in reply, stated that he doesn't have a lot to say but is waiting patiently for Austin in the ring.
Allicock stated that he is more prepared for this fight against Charlton Skeete than any other fight he had taken part in before.
"I never been so serious yet like how I serious in this fight. I just want to settle he and done and he always hiding from me," were his words while
Skeete stated that his mentor and father and trainer is currently in prison but nevertheless he is still prepared and ready.
"Even though my father who used to train me and be behind me 100% in jail and there is no one there to back me, I would just give it my best and put my best foot forward and win. If he was out here nobody could stand before me," Skeete stated.
The other boxers stated that they are waiting patiently on the fight night and have nothing much to say.
The boxers on the amateur segment of the card will be announced later.
The event is being sponsored by Digicel, Giftland OfficeMax, Courts, Banks DIH Limited, NCN and Ansa McAl. Bell time is 8pm and admission costs $1,000.
Around the Web