Representatives of regional conglomerate, Ansa McAl Trading Ltd., on Friday formally handed over the newly resurfaced playing field to the handlers of the Mackenzie Sports Club (MSC) ground.
During a simple ceremony which was held at the MSC ground, Public Relations Officer (PRO) of Ansa McAl, Darshanie Yussuf stated that she was elated to hand over to the ground which was resurfaced to the tune of $3M.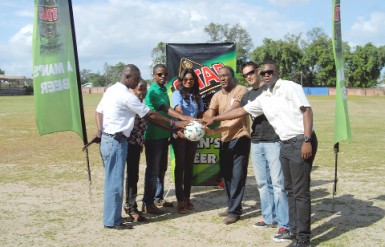 "We at Ansa McAl have been doing promotions to help individuals but what we realized is that we wanted to target a community," said Yussuf.
"The Mackenzie Sports Club is home to major activities in Linden and we are extremely happy to contribute towards the development of this facility through the STAG CROWN your Community Promotion."
Yussuf also mentioned that her company will also purchase a John Deere tractor to aid in the upkeep of the ground.
Vice President of the MSC, Leon Barrett thanked Ansa McAl for resurfacing the field despite setbacks since the commencement of the project in May last year and stated that the resurfacing which was needed for quite some time will benefit several sporting disciplines.
"It is a pleasure to receive the ground in a much better condition" said Barrett.
"We had wanted this to happen for years, we approached several corporate sponsors but we were unable to get the ground resurfaced but Ansa McAl made it possible and for that we are very thankful".
Barrett added:"We chose to resurface the ground because it is the most important aspect of the facility, not only will it be more suitable for football but it will be better for cricket, hockey and track and field.
The VP of the MSC also noted that the company was also instrumental in the renovation of the toilet facilities at the MSC basketball facility.
Around the Web