A first half strike from the precocious Omari Glasgow in the 10th minute enabled a well-drilled BV Primary School to defeat Uitvlugt Primary 1-0 as the Kashif and Shanghai Chico U13 tournament recommenced at the Georgetown Football Club on Saturday.
Rescheduled because of the inclement weather, the boys from the East Coast opened the first half clearly dictating the run of play.
Carving  their lesser antagonists open with their silky passing and deft touches, copious amounts of attacking opportunities were created by midfield dynamo Troy Abrams, who skillfully orchestrated the offensive output from the traditional trequartista position.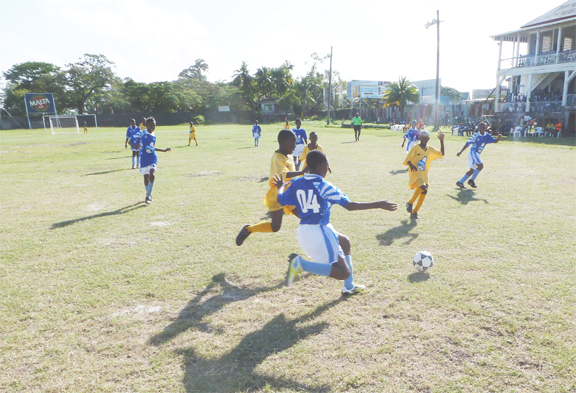 The constant pressure exerted by the attacking duo of Banks and Abrams led to the stalemate being broken in the 10th minute sending the small but vocal mass into rhapsodic jubilation. Continuous pressure ensued as  Glasgow toyed with the Uitvlugt backline from the wider areas and lunging busting runs became the mode of attack by the aforementioned talent as opportunities became ever so prevalent as half time quickly approached.
The second half was a mirror image of the first with the BV Primary School team clearly in command and Uitvlugt primary failing to create anything substantial in possession. Exuding maturity beyond his years, efficient playmaking by Abrams led to a penalty for the BV unit as Uitvlugt was guilty of reckless imprudence in the 18-yard box.
The ensuing spot kick was poorly taken and marred what was simply a superb team performance by the BV unit as the final whistle quickly came.
In the opening fixture of the day, Grove Primary School, compliments of a Randy Small finish in the fourth minute, overcame a determined Company Road Primary 1-0 while West Ruimveldt toppled St. Gabriel's Primary 3- 0 through strikes from Japheth Singh, Brian Singh and Michael Oie in the seventh, 25th and 32nd minutes respectively to conclude the day's scheduled events.
Around the Web