PORT-OF-SPAIN, Trinidad, CMC- All-rounder Kevon Cooper will miss Trinidad and Tobago's remaining matches in the Caribbean T20 tournament due to professional commitments overseas.
The medium pacer was due to leave here Monday for the second season of the Bangladesh Premier League (BPL) Twenty/20 competition starting on Friday.
Cooper's absence is seen as a big blow to the defending champions' bowling attack, already strained with key fast bowler Ravi Rampaul on the injured list.
"Cooper will not be with the squad in St Lucia," T&T manager Omar Khan told the Express.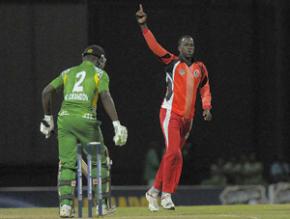 "He is off to the Bangladesh Premier League so Rayad Emrit will have to fill that void".
Cooper will line up with Chittagong Kings, a team which failed to qualify from the group stages of the first BPL because of batting collapses.
His country man, cricket legend Brian Lara, recently signed a three-year contract as brand ambassador for the franchise.
"Cooper leaves on Monday so we will be with 13 players in St Lucia…we knew that before the tournament started" said Khan.
"It is risk we took knowing his quality and we needed him with (Kieron) Pollard missing the first game here".
The Trinidadians play two more matches in the round robin phase of the competition which has now moved to St. Lucia following earlier games in Port-of-Spain.
The right-arm seamer, Emrit, expected to deliver in Cooper's absence, took two for 18 from four overs in Trinidad and Tobago's 80 run win over Guyana Saturday night.
"He has played his part and we have players to fill the void as Rayad demonstrated (Saturday night)," said Khan.
"Emrit's performance is a big boost for the team heading to St Lucia".
Around the Web