Last year, 74-kilogramme Masters Two deadlift World record holder, Winston 'Little Master' Stoby, won gold medals and smashed Commonwealth and World records to cap his most successful year in powerlifting. Nevertheless, the 'Little Master' is aiming to raise the bar even further in 2013.
"For 2013 I'm looking to add 20 pounds more on the squat, that is going to put me at 580 pound,  the deadlift definitely want to add another 20 pounds to the record and like 10 to 15 pounds on the bench press," said Stoby of his new year aspirations during an interview with Stabroek Sport on Saturday. Stoby who copped two individual gold medals and a bronze medal at last year's World Master's Championships in Kileen, Texas has career best of  255kg (562.27 pounds) in the squat, 140kg  ( 308.70 pounds) in the bench  press and 272.5kg  (600.86 pounds)  in the deadlift for a total  of  667.5kg  (1,471.83 pounds).
According to Stoby all those achievements will all be bettered this year and will be untouchable for quite some time.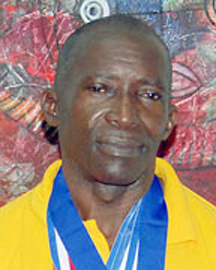 "With raising my total to about 50 to 60 pounds more, I see that being untouchable for quite some time," the Little Master prophesied.  The 53-year-old says he plans on achieving his goals at the Pan Am Games in July, the World Master's Championships in October and the Commonwealth Games in December. "I plan on competing at the Pan Am Games and I have the Masters a couple months after. I would love to go to both. I think the Masters would be more important to me because I would want to repeat. I want to go back to the championships to show that it was not a one walk so I think the Masters will be the priority on my agenda but I would be aiming for both of them. "There is one competition we have not competed in and that is the Commonwealth Games, we have never gone to Commonwealth Games even though several local powerlifters have Commonwealth records, the president (Peter Green) is hoping we can carry a full strength team to that Games in December as well so I will be aiming to raise my total at those championships," Stoby declared.
Stoby also mentioned that one of his wishes for 2013 was for the sport of powerlifting to receive more corporate sponsorship. "In 2013 I would love for a company to endorse some local powerlifters, because we are world class athletes, we would love to be brand ambassadors and be under some company's umbrella promoting and endorsing their products because I think we have reached that level now."
He added: "There are about 10 local world-rated powerlifters and it will be good for powerlifting and any company and I guess the government can pitch in some more I mean when a cricket team leaves here they represent the country not one person or a specific set of people", Stoby pointed out.
In 2012, Stoby was also a double gold medalist at the Caribbean Powerlifting Championships in the 74kg Men Open and Masters M2 Categories.
Stoby also opined that his feats should put him in the running for Sportsman-of-the-Year.
Around the Web