PORT OF SPAIN, Trinidad,  CMC – Windward Islands eliminated Leeward Islands from the Caribbean Twenty20 when they dealt the struggling side their fourth straight defeat here Saturday.
Winning the toss and batting, the Windwards rallied to 111 for eight off their 20 overs on a slow Queen's Park Oval strip before producing a strong effort in the field to hold the Leewards to 101 for nine, and come away with a 10-run verdict.
They were led by off-spinner Liam Sebastien who finished with four for 17 to pick up Man-of-the-Match honours while left-arm seamer Delorn Johnson supported with two for 18.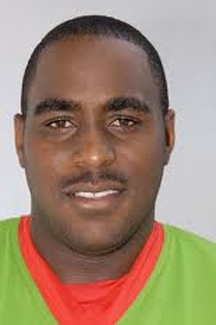 The victory put the Windwards fourth on eight points but alongside two other teams – Barbados and Guyana – on the same number of points.
Leewards, meanwhile, remained rooted to the bottom of the standings as the only team without a victory and with two matches remaining in St Lucia next week, have no chance of qualifying for the playoffs.
Gunning for a win to keep their thinnest of hopes alive, the Leewards got a slow but safe start from Test opener Kieran Powell (16) and Lyndel Richardson (17), who put on 33 off 41 balls
Powell, who has struggled in the series with six runs from three innings, finally looked like carrying on as he stroked two fours off 24 balls.
Richardson, in his first match in five years for Leewards, faced 26 balls and struck one six – a straight hit off West Indies captain and medium pacer Darren Sammy.
Johnson got the breakthrough when Powell's lofted drive failed to clear Andre Fletcher at long off in the seventh over.
Sebastien then snatched two wickets in his first over – Chesney Hughes taken at deep mid-wicket by Miles Bascombe and Richardson caught by Sammy at short mid-wicket – before captain Sylvester Joseph got an unfortunate lbw decision, as the Leewards lost four wickets for five runs to be 38 for four in the 11th over. Devon Thomas helped repair the innings in a 26-run, fifth wicket stand with Jahmar Hamilton (6) that once again lifted the Leewards' hopes.
The right-handed Thomas scored 20 from 16 balls with a four and a six but with the required run rate building, missed a swing at Sebastien and was bowled.
Rahkeem Cornwall had his stumps rattled first ball to leave Sebastien on a hat-trick and though it was averted, the Leewards lost another four wickets for 13 runs, to end any serious chance of a victory.
Justin Athanaze's breezy 15-ball 24 with a four and two sixes came a little too late.
Earlier, Bascombe top scored with 29 from 31 balls and Fletcher hit 24 from 25 balls, to guide the Windwards after they lost West Indies opener Johnson Charles in the day's third over for just ten with the score on 16.
Fletcher put on 34 for the second wicket with Devon Smith (16) to rebuild the innings and when wickets tumbled during the middle overs, Bascombe held the lower order together. Left-arm spinner Hughes (2-8), leg-spinner Anthony Martin (2-19) and seamer Gavin Tonge (2-21) all picked up two wickets apiece.
Scoreboard
WINDWARD ISLANDS
J Charles lbw b Martin                                              10
A Fletcher b Tonge                                                     24
D Smith c Hamilton b Cornwall                             16
K Lesporis c wkp Thomas b Hughes                    14
M Bascombe  c Powell b Martin                           29
*D Sammy c Hamilton b Hughes                          7
+L James c Burton b Tonge                                   3
D Johnson not out                                                      5
G Mathurin run out                                                    0
Extras (lb2, w1)                                                           3
TOTAL (8 wkts; 20 overs)                                 111
Did not bat: S Shillingford, L Sebastien.
Fall of wickets: 1-16 (Charles, 2.2 overs), 2-50 (Smith, 9), 3-50 (Fletcher, 9.1), 4-68 (Lesporis, 12.4), 5-83 (Sammy, 16.1), 6-94 (James, 17.5), 7-108 (Bascombe, 19.2), 8-111 (Mathurin, 20)
Bowling: Martin 4-0-19-2, Athanaze 4-0-27-0, Cornwall 4-0-28-1, Tonge 4-0-21-2, Hughes 3-0-8-2, Burton 1-0-6-0.
LEEWARD ISLANDS
L Richardson c Sammy b Sebastien                   17
K Powell c Fletcher b Johnson                            16
C Hughes c Bascombe b Sebastien                       1
J Hamilton c Sebastien b Mathurin                    6
*S Joseph lbw b Johnson                                      0
+D Thomas b Sebastien                                      20
R Cornwall b Sebastien                                        0
J Athanaze run out                                                    24
S Burton b Sammy                                                        1
G Tonge not out                                                           11
A Martin not out                                                           0
Extras (b1, lb1, w3)                                                      5
TOTAL (9 wkts; 20 overs)                                  101
Fall of wickets: 1-33 (Powell, 6.5 overs), 2-37 (Hughes, 9.4), 3-37 (Richardson, 10), 4-38 (Joseph, 10.5), 5-64 (Thomas, 15.3), 6-64 (Cornwall, 15.4), 7-64 (Hamilton, 16.2), 8-77 (Burton, 18.1), 9-94 (Athanaze, 19.2).
Bowling: Sammy 4-0-29-1 (w1), Mathurin 4-0-18-1, Shillingford 4-1-17-0 (w1), Johnson 4-0-18-2, Sebastien 4-0-17-4 (w1).
Result: Windwards won by ten runs.
Points: Windwards 4, Leewards 0.
Man-of-the-Match: Liam Sebastien.
Toss: Windward Islands.
Umpires: Nigel Duguid, Verdayne Smith; TV – Peter Nero
Around the Web