GROS ISLET, St. Lucia,  CMC- The man who has been spearheading the preparation of pitch and field at the Beausejour cricket ground for the crucial second leg of the Caribbean T20 Tournament says he is expecting better batting performances.
Kent Crafton, head Groundsman, says after nearly two months of preparation, the playing surface here is ready to host the rest of the games after the first leg in Trinidad.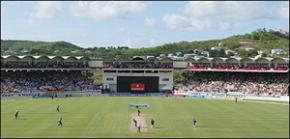 Crafton's disclosure comes in the wake of concerns expressed about the playing surface at the Queen's Park Oval which has been blamed for a series of low scoring games.
"We have stuck to our normal preparations going through the procedures of pitch maintenance. We are really satisfied. The weather has not really been a problem for us," said Crafton, who leads a crew of four permanent ground staff and 24 part time employees.
"We intend to use a 70 yard boundary from the centre of the pitches that we use. And I think that it will be a reasonably sized boundary and runs will be scored".
President Julian Hunte was quoted in a WICB release Monday, as saying , that some of the matches in Port-of-Spain resulted in low scores and some "undesirable" batting displays.
The statement also quoted Hunte as saying that the WICB was aware that the pitches at the Queen's Park Oval did not benefit from full preparations owing to the rainy weather in Trinidad and Tobago leading up to the tournament.
"The surface did not encourage stroke play but some of the shots played were not ideal shots" said Windwards captain Darren Sammy in reference to the Trinidad pitch.
"We as a batting region we didn't apply ourselves. Apart from Trinidad and CCC in that first game against Guyana the scores were very low".
So far, Trinidad opener Darren Bravo is the leading batsman with 164 runs at an average of 82.
Barbados pacer Tino Best is the leading wicket taker having picked up 10 wickets in four matches at 7.30 runs per wicket.
"I think the windward should be very comfortable here. As a matter of fact Darren Sammy has had quite a few good performances here especially in recent time" said the head groundsman.
"Honestly I think the Windwards stand a very good chance here".
Around the Web