GROS ISLET, St Lucia,  CMC – Jamaica further strengthened their playoff chances when they easily brushed aside a struggling Guyana in the opening game of the St Lucia leg of the Caribbean Twenty20 here this  evening.
They held Guyana to a disappointing 93 all out off 19.4 overs and then overcame some hiccups to reach their target with 11 deliveries remaining at the Beausejour Cricket Stadium.
The result pushed Jamaica to 13 points, alongside defending champions Trinidad and Tobago who were engaging Windward Islands in the feature match of the doubleheader later Tuesday.
Guyana, meanwhile, who won their two opening matches before being crushed by T&T last Saturday, are fifth on eight points.
Sent in, Guyana never found their footing and struggled throughout as West Indies seamer Andre Russell undermined the innings with four for 22 from his four overs.
They were facing total annihilation at 41 for six in the 13th over before Chris Barnwell (27) and Royston Crandon (20) combined to stage a crucial 33-run, seventh wicket stand off 27 balls.
Barnwell faced 25 balls and struck two fours and one six – a straight hit off a full toss from left-arm spinner Nikita Miller – while Crandon hit three fours in a 14-ball knock.
Miller broke the partnership when Barnwell edged a cut at a wide one in the 17th over and Crandon blasted two successive fours off the next over by Russell before playing one shot too many and falling to a catch at mid-wicket in the same over.
Guyana hit back early when off-spinner Steven Jacobs had opener Nkrumah Bonner caught and bowled off the fourth ball of the innings without a run on the board.
When captain Tamar Lambert was caught at short mid-wicket for one in Jacobs's next over, Jamaica were in a hole at two for two in the third over.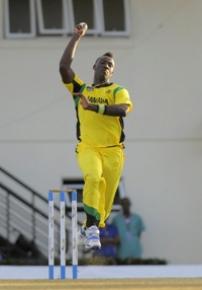 However, opener John Campbell (17) and Danza Hyatt (22) posted 34 for the second wicket to halt the slide, and put Jamaica back on course for victory.
Campbell fell in the tenth over, edging a wide one from leg-spinner Devendra Bishoo behind and Hyatt added a further 21 for the fourth wicket with Krishmar Santokie (22) before also departing.
Santokie, who counted a four and two sixes, was prised out by off-spinner Deonarine at 67 for five in the 16th but Russell showed up again to blast three sixes in an unbeaten 20, to see Jamaica home.
Scoreboard
GUYANA
T Griffith c Bonner b Cotterrell 4
S Chanderpaul lbw b Cotterrell 1
R Sarwan c Santokie b Russell 7
N Deonarine  b Russell 13
L Johnson c wkp Thomas b Russell 0
S Jacobs st Thomas b Miller 9
C Barnwell c wkp Thomas b Miller 27
R Crandon c Lambert b Russell 20
+D Christian not out 5
*V Permaul run out 3
D Bishoo run out 0
Extras (lb1, w3) 4
TOTAL (all out; 19.4 overs) 93
Fall of wickets: 1-5 (Griffith, 1.3 overs), 2-7 (Chanderpaul, 2), 3-24 (Sarwan, 7.2), 4-25 (Johnson, 7.4), 5-35 (Deonarine, 10), 6-41 (Jacobs, 12.2), 7-74 (Barnwell, 16.5), 8-86 (Crandon, 17.5), 9-92 (Permaul, 19.1), 10-93 (Bishoo, 19.4)
Bowling: Santokie 4-1-15-0 (w1), Cotterrell 3.4-1-8-2 (w1), Bernard 4-0-22-0 (w1), Russell 4-0-22-4, Miller 4-0-25-2.
JAMAICA
N Bonner c & b Jacobs 0
J Campbell c wkp Christian b Bishoo 17
*T Lambert c Sarwan b Jacobs   1
D Hyatt c Crandon b Deonarine 22
K Santokie c Chanderpaul b Deonarine 22
D Bernard not out 9
A Russell not out 20
Extras (w 3) 3
TOTAL (5 wkts, 18.1 overs) 94
Did not bat: N Miller, A McCarthy, S Cotterrell, +A Thomas
Fall of wickets: 1-0 (Bonner, 0.4 overs), 2-2 (Lambert, 2.2), 3-36 (Campbell, 9.1), 4-57 (Hyatt, 13.2), 5-67 (Santokie, 15.1)
Bowling: Jacobs 4-1-13-2, Barnwell 3-0-14-0 (w1), Bishoo 4-0-16-1, Permaul 3.1-0-29-0 (w1), Crandon 2-0-14-0, Deonarine 2-0-8-2.
Result: Jamaica won by five wickets.
Points: Jamaica 4, Guyana 0.
Man-of-the-Match: Andre Russell.
Toss: Jamaica.
Umpires: Leslie Reifer, Joel Wilson; TV – Gregory Brathwaite.
Around the Web