When national light heavy weight champion, Kwesi 'Lightning Struck Assassin' Jones steps in the ring with former CABOFE cruiserweight champion, Shawn 'The Sniper' Cox on January 25, he will be at a height, weight and reach  disadvantage, nonetheless the 'Assassin' is aiming to take out the 'Sniper'.
"I will put his lights out between rounds seven or eight and that is if he reaches that far," prophesied Jones yesterday ahead of his 10-round catch weight bout with the knockout specialist, Cox.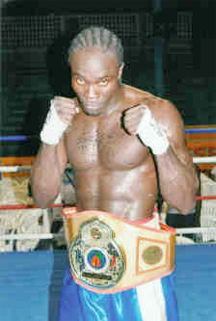 "I'm not getting opponents so they put Cox in front of me so I have to do the necessaries, weights don't matter, my job is to fight and win, right about now I'm not getting fights in my division but I have fought in the cruiser and heavyweight divisions before and was successful," Jones declared.
Jones who has not fought since June last year said he is 'thirsty' and cannot wait to feast on Cox.
"My job is to fight, putting Cox in front of me is like a glass of water and right now I am thirsty so that is the fact, everybody knows me, I have never been on the canvas, Cox is just another opponent for me to show these people that I am serious about this sport because up to now some people don't believe I am serious about boxing".
The Assassin who has knocked out six of his opponents added "Kwesi is fearless, I saw Cox fight before, he can't take a southpaw like himself and he can't fight backwards, he fought a lot of unskillful guys, let us see if he could put my lights out."
Jones also mentioned that his training regimen included a lot of power training and conditioning since he got the fight on short notice.
The Barbadian 'Sniper' who has taken out all four Guyanese opponents he has faced within the distance, most notably a first round demolition of former world cruiserweight champion, Wayne 'Big Truck' Braithwaite, in February, has a record of 16 wins and two losses. Fifteen of his wins are via the KO route.
The 38-year-old south paw has knockout wins over locals Kurt Bess, Anthony Augustin and Leon Gilkes. He kayoed Bess and Augustin in the first round and took out Gilkes in the second round.
Jones, who is also a renowned knockout specialist has a record of 10 wins and two losses.
Who will win the match up of the Assassin and the Sniper? The answer will be known on January 25.
The 27th edition of the Guyana Fight Night Pro Am card which will be staged at the Cliff Anderson Sports Hall will also feature knockout specialist, Gladwin Dorway, young and exciting Richard Williamson and Dillon Allicock.
Dorway, who has knocked out all four of his opponents since turning professional, last June, will match gloves with Mark Austin for the vacant national junior middleweight title.
Williamson coming off of a scintillating knockout win over Rudolph Fraser in November will take on his former trainer, Orlan 'Pocket Rocket' Rogers in a six-round super bantamweight contest.
Allicock will face Charlton Skeete in another super bantamweight bout.
The Simon Pures competing on the amateur segment of the card will be announced subsequently.
The event is being sponsored by Digicel, Giftland OfficeMax, Courts, Banks DIH Limited, NCN and Ansa McAl.
Bell time is 8pm and admission costs $1,000.
Around the Web