Co director of the Kashif and Shanghai football tournament and Organising Secretary of the Guyana Football Federation (GFF), Aubrey 'Shanghai' Major sees the recent agreement to end the GFF/Guyana Football Association (GFA) saga as a plus for football and anticipates a resurgence of the Kashif and Shanghai tournament.
"With FIFA bringing an end to this GFA/GFF problem I see this as a plus for football," said Major during an interview with Stabroek Sport on Friday.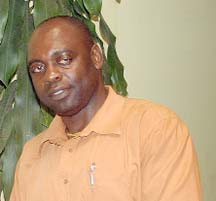 "I am anticipating a better year for football in Guyana. A sport cannot develop divided. All over the world no two tournaments run at the same time and I think it was just foolish that two tournaments were being played at the same time. The fans suffered, the players suffered and any one that sees that as making sense something is wrong with them," he added.
"We don't see it as making sense and if that is the way they are thinking for football we don't think they have the sport at heart. I just think it is foolishness. This is something that we built from nothing. There was never a football tournament in December and if people could just come and jump on this and see it as something that will benefit football, it's just ludicrous," Major declared.
He said that despite the poor support the tournament has received since the inception of the Banks/GFA tournament two years ago, the K&S Organization will continue to "maintain our standard and continue to fight for the excellence of football.
"We at Kashif and Shanghai will always maintain our standard and continue to fight for excellence of football. It's 23 years we are in this business and what we have brought football to was nothing easy. We went through a lot of tough times and we will continue to make the footballers happier and do things to give to the sport what it deserves and if the people of today are not seeing that we don't know they want to see."
Major stopped short of divulging specific plans of improving the long standing tournament which only attracted about 3000 fans at the final as opposed to approximately 25,000 for the Banks/GFA final but disclosed that throughout the year the organization will be looking to improve the tournament.
"Every year Kashif and Shanghai seeks to strive for higher heights and throughout the course of this year we will start showing some of the plans that we have and coming down to this year end. People will start seeing a different outlook to football and patrons will see improvements from the previous tournaments. This will be our 24th year this year and definitely we want to step it up for the 25th year. We want to do something extravagant for the public and the players."
When quizzed on if there would ever be a merger of the two tournaments Major said: "No! We don't have any plans of a joint venture, once football is being regularized as FIFA said, we select the best clubs to participate in our tournament and we will continue to do that when ever the tournament is being staged."
The GFF Organizing Secretary revealed that despite the tournament's drop in attendance as opposed to previous years, the tournament was dubbed a success because untapped talent was exposed when underdogs Buxton United lifted the champion's trophy.
"We dubbed this tournament as a success this year because we saw new players emerging. We saw the talent in communities like the East Coast and we know that was a major plus for Kashif and Shanghai this year to see that East Coast rose to the top.
"Over the years people always think that the talent is in Georgetown or Linden alone and now we are seeing the calibre of players on the East Coast and we think it is something good that Kashif and Shanghai was the tournament that highlighted this.
"We plan on looking to other areas of the country like Bartica and so on and this year, we plan on bringing off a tournament in Bartica. Games will also be returning to Linden since the MSC (Mackenzie Sports Club) ground has been resurfaced," Major assured.
Around the Web