The PETRA organisation in partnership with Beepat's Trading launched the Milo U-20 school football competition at the Ministry of Education's sports ground Carifesta Avenue yesterday
The tournament is scheduled to commence on January 19 with 24 competing teams.
Opening the formal proceedings, witnessed by the various representatives of the competing schools, PETRA's Co-director Troy Mendonca stated his organisation's pleasure at being associated with school football. This is also evident by the entity's involvement with the recent Courts U-11 Pee Wee schools football competition.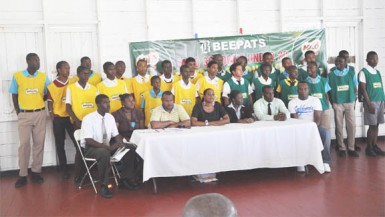 "Over the years persons have been saying that football should go back to the school and the PETRA organisation is pleased to be continuously involved in the development of school football," Mendonca said. "The tournament will see 24 of the best schools competing in a round-robin format consisting of 6 groups of 4. The top two teams from each group along with the four best third place finishers will advance to the round of 16 knockout stages. Three games will be played on both Saturdays and Sundays from noon and every school will be competing every two weeks."
Wayne Griffith, senior match official and tournament coordinator, spoke to the teams about playing the game in the right manner.
"I am very familiar with some of the schools and players… While I hope for the games to be played in a competitive nature, it is urged and tasked upon the teams that fairness and clean play be the order of the day," he said.
Beepat's representative Selwyn Bobb spoke of the company's delight at being a part of such an initiative and challenged the schools to put their best feet forward while playing the game in the right spirit.
"The tournament was supposed to commence since last year so it's a little behind schedule but I want to encourage the teams to play fair and within the necessary rules and guidelines and may the best team be victorious," he added.
PETRA representative Mark Alleyne spoke on the need for teams to verify their respective personnel and to be punctual at all their respective competing fixtures.
Prizes for the tournament are 1st place $200,000 in sports equipment, a trophy and team medals; 2nd place $100,000 in sports equipment, a trophy and team medals; 3rd place $50,000 in sports equipment, trophy and team medals and 4th place $25,000 in sports equipment, a trophy and team medals.
Individual prizes include the 'Golden Boot' the winner of which will receive a trophy and a pair of football cleats; 'Most Valuable Player (MVP)', a trophy and a pair of football cleats and 'Best Goalkeeper', a trophy and a pair of goalkeeping gloves.
Around the Web