Demerara sealed first innings points at the Demerara Cricket Club ground on the fourth and final day of their Round Two clash against the President's XI of the Guyana Cricket Board Senior Inter County competition.
Scores in the match: Demerara 365 and 50-4; President's XI 202.
The President's XI resuming on 68-2 with Steven Latcha and Sookdeo the overnight batsmen saw Latcha adding only one more run to his overnight score of 1 before he was run out by Vishaul Singh with the score on 76 while Elton Baker was lbw to Paul Wintz for a painstaking 23-ball duck.
Anthony Bramble contributed just 12 before he was fifth out, lbw to Amir Khan before Eugene LaFleur and Sookdeo played with assurance in a 66-run partnership dominated by La Fleur, who made 42 in 76 balls in 10 minutes shy of two hours. La Fleur's knock contained seven fours, but was ended when a mistimed flick resulted in a return catch for Khan.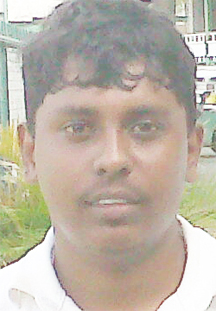 Sookdeo soon brought up his half century from 195 balls. He was given a life as he approached his half century when the wicket-keeper Joseph Perry spilled an edge off Shaquille Williams. Sookdeo, however, retired hurt soon after when a throw hit him on his hand.
Khan completed a five wicket haul when he had Collis Butts caught for one at long off with the score 165 and the President's XI still 200 runs behind. Fast bowlers Seon Daniels and Brandon Bess either blocked or played and missed at 46 balls without any addition to the score before Bess' luck deserted him and he was lbw to Kellon Carmichael for one in the first over that Demerara took the second new ball. This allowed Sookdeo to resume his innings, and he batted more aggressively upon his return to the crease, hitting Wintz for a four and a six in one over.
He was given a second life by Perry when he nicked Carmichael behind in the final before tea as the President's XI went to tea at 189 for 8 with Sookdeo on 66 and Daniels on five.
Upon resumption, Daniels missed a sweep at Zaheer Mohamed and was adjudged lbw for eight at 196 for 9, with the Presidents XI still 19 runs away from the follow on target. The innings ended on 202 in 95.5 overs when Mohamed bowled last man Gilford Moore for two, leaving Sookdeo unbeaten on 70 in 229 balls with seven fours and two sixes.
Amir Khan was the pick of the bowlers with 5-44 while Mohamed's late wickets landed him 2-26. Carmichael took 1-29 and Wintz 1-49.
The match was called off at 4pm with Demerara 54 without loss. Rajendra Chandrika hit three fours in 29 and Robin Bacchus a solitary boundary in 13.
Demerara's next assignment will be against Berbice and that match will decide the champions of the GCB Senior Inter County four day competition.
Around the Web