Reece honoured by A. Ally & Sons
—hopes to realize dream of competing at the Olympic Games
Flying Ace Cycle Club of Berbice star rider Neil Reece was recently honoured by sponsor and Rose Hall Town, Corentyne businessman Mark Lewis of A. Ally and Sons Company  for his achievements in 2012.
A constant fixture within the national setup since the tender age of 14, Reece,  who is trained by Randolph Roberts, stated that he is satisfied with his accomplishments for last year as he seeks to build on his continuous rise in the sport.
"I am very content with my performances during the previous competitive season. Due to commitments with regards to school where I am a mechanical engineering student at the New Amsterdam Technical Institute, my competitive window started in August.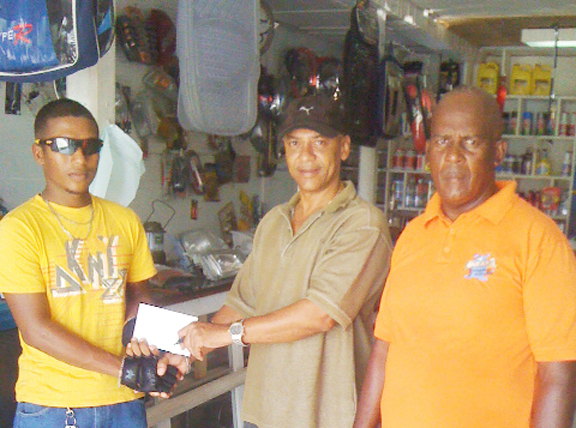 I concluded with a record of five wins and two losses and overall competitively and academically, I'm happy how things turned out and I'm really looking forward to starting the season."
Questioned about his expectations for this year, the reserved Reece said he hopes to continue his development while representing the flag of Guyana at international engagements.
Reece said his goal is to continue to compete locally with the aim of contending in the Caribbean locales.
"I have been representing my country since the U15 level with assignments in Suriname, Trinidad and Aruba clearly helping to foster my continuous progression from an experience standpoint."
Reece said he hopes to continue to represent Guyana while incrementally improving the totality of his abilities.
He added that he envisions himself competing at the highest level in the cycling universe while admitting that that can only possible if he continues to put in the hard yards.
"My dream is to compete at the Olympics which is the pinnacle of the sporting universe. It's where I strive to be and in order to realize my dream, I have to make sacrifices and remain steadfast in pursuit of this unwavering but accomplishable goal."
In closing, his astute coach Roberts said he  wanted to than the sponsor for his continued assistance in the development of his young protégé while sharing the sentiments of the guarantor who hopes to see more commercial enterprises support the sport of cycling and its young riders.
Most Read This Week