SYDNEY, Australia,  CMC-West Indies middle order batsman Marlon Samuels has accused Australian legend Shane Warne of going "overboard" in a "desperate" attempt to unsettle him during an ugly confrontation in the Big Bash League.
Samuels was found guilty of unbecoming behaviour in his confrontation with Warne during the clash between Melbourne stars and Melbourne Renegades on January 6.
But he escaped punishment and instead received a reprimand for throwing his bat away in frustration after he was struck on the body by a return from Warne.
"You can talk in a game and try to get into someone's head, but you don't get physical. That's what he did. He took it to the next level, which was just way overboard," said Samuels in an interview with the Sydney Morning Herald.
"He was a very desperate man doing desperate things. That's not the way you go about it when you're the face of the tournament with kids looking on."
Melbourne stars Captain, Warne, served a one-game suspension, and was fined US$4,500, for his clash with Samuels, who plays for the Renegades.
Samuels has been recuperating in Australia after suffering a severe facial injury when he failed to hook a bouncer from Lasith Malinga in the same match.
"There were a lot of kids in the ground – Twenty20 is about family – so I couldn't afford to react in a very bad way," he said.
"I was able to come out on top with him behaving the way that he was behaving. He's supposed to be a legend in Australia. What he did was give me the stripes so I am the legend now."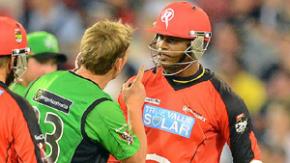 Warne's outburst of swearing, finger jabbing and tugging at Samuels' shirt, originated from an earlier incident in which Samuels seemed to have physically hampered David Hussey's attempts to take a second run.
The Jamaican cricketer has also called for BBL organisers to adopt a more disciplined attitude towards player behavior.
"It's not a war, it's a game," he said.
"We're here to entertain people, but we're here to show love to one another as cricketers as well."