Strategic planning is the way forward for new AGG boss
Newly elected president of the Athletics Association of Guyana (AAG), Aubrey Hutson and his executive will be aiming to implement changes in the association in order for local athletes to be more competitive on the world stage.
During an interview with Hutson, who was elected president of the association when he defeated former president, Colin Boyce by six votes to three at the AAG's annual general meeting on Sunday, he outlined steps that will have to be implemented for local athletes to climb to the next level.
"Throughout the years of representing Running Braves I have always been concerned about the lack of projection for junior and upcoming athletes," said the former president of Running Brave Athletic Club yesterday.
"Projection in terms of what the AAG is doing to achieve over a period of time.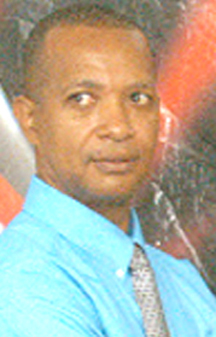 "Without those goals in mind we were just basically running off meets and preparing athletes without specific goals in mind of what they were trying to achieve in a specific time frame. That is what I am going to change almost immediately because I will be meeting with coaches of clubs almost immediately for us to sit down and map out an approach to training and development with the hope of our athletes being true Olympians in years to come."
The 48-year old Hutson who stated that his presidency will be different from his successor added:"The focus this year will be on strategic planning so that we can really have long term achievements that we are looking for. For me to just rush in and continue to maintain the status quo of things the way they used to be done before it's not going to achieve anything different and I want my presidency to have a difference in the eyes of the athletes."
While praising the leadership of Boyce during his four-year term, Hutson also mentioned that he would like to see a difference in the accountability of the association.
"We cannot disregard the leadership and the contribution Mr. Boyce made for the AAG on and off the field but what I would like to see different is the accountability.
"The proper budgeting of our finances so we don't end up in last minute scenarios.
"As of now we're supposed to have in our heads how many athletes we want to send to Junior Carifta Games. We cannot wait until two weeks before the event when we have our Trials to make that determination and go running clapping hands to sponsors asking them for donations."
The newly elected president noted that the association will only achieve its goals with strategic planning.
"My approach, along with the executives approach is this, we will know our calendar activities for the year, we would have seen the performances of the athletes in the previous year, we can at least shortlist and say we will send 10 to Junior Carifta, 15 to CAC Games and once we set that high bench mark we then create a budgets now to deal with all the relevant engagements that we have to go through."
Hutson continued: "A budget for training, a budget for the women's committee, the technical and developmental committee and we fuse all of that and we say to the finance committee that we need to generate a certain amount to run our programme for 2013 and if they raise less then we need to come back and plan to see what we will trim. It was my understanding that was not done and that is what we need to change."
Hutson also highlighted that he will be looking to change the way athletes garner sponsorship for overseas events.
"I would not look at sponsorship for individual athletes, I am looking at sponsorships for the AAG and its programme unless we can really and truly move away from individual athletes running round with a letter begging for sponsorship against us having sponsors like Coca Cola or Gatorade, you name the company we will not be moving forward," Hutson declared.
Another change Hutson said he will look to implement is the way times are recorded especially for the sprinting events which has seen a wide disparity between the times recorded locally and the time recorded overseas.
"We have seen the glaring disparities of the times the sprinters record with the hand timings here and the actual timings the get overseas and before the AAG accepted those timing they should have done some cross checking, like the length of the track and the time keepers and so forth".
"I'm not jabbing at anyone here but the timing disparities are glaring time and we need to change that and if we continue doing the same thing we will eventually end up with no other results but the same".
The owner of Office Machines Electronic Lab added:
"I have offered in the past to have such equipment in place from a business perspective, to purchase this equipment to aid the AAG to ensure that the times are realistic. I was talking to Mr. Boyce about it either they pay me back over a period of time or sign some kind of contract to rent that equipment because one of those electronic timing machines with cameras and everything for an eight-lane system will cost about US$15,000 which I did not have a problem investing but I was looking to not make a profit on the investment but to let the athletes be aware that look this is your time, we have to take a serious realistic approach to that."
The AAG's vice presidents are Dr. George Norton and Gavin Hope, the treasurer is Cheryl Sam, the assistant treasurer is Amanda Hermonstine and Wayne Walcott, Leslie Black, John Martin, Mark Scott and Faye Naughton are the committee members.
Most Read This Week