Mark Austin has promised to teach Gladwin Dorway a lesson when the two meet tomorrow night as   the Guyana Boxing Board of Control (GBBC) stages its first Guyana Fight Night card for 2013 at the Cliff Anderson Sports Hall.
"I fought the best and I don't think he got that kind of power like Miguel Antoine so I will leave him to the ring. I fight hard for my children. When I fighting, I fight my heart out for my seven children," said Austin at  yesterday's press conference.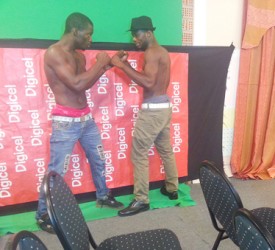 The 22-year-old Austin  said he will win this fight on experience, which is the edge he has overDorway.
"And because of his mouth I will teach him a lesson, a boxing lesson for his mouth," he added.
A cool Dorway who initially refused to be caught up in the exchange of words saying that he  preferred to keep all his talking for the ring changed his mind with a little coaxing from President of the Guyana Boxing Board of Control (GBBC), Peter Abdool.
"I am prepared to fight the 12 rounds. When the time comes I will fight."
Austin, who described himself as the People's Choice, said while he was not predicting a knockout, he is going for one.
The Dilan Allicock and Charlton Skeet fight should be interesting after the two young fighters said they will destroy each other in the ring.
"I will not beat him bad at all. I  just want to show myself and the public the improvements that I have made. So I don't know what Charlton Skeet is going to be up to but my `itation' is that I don't think that it will  past a second, because I train really hard," Allicock said.
Skeet, however said the fight will give him the opportunity to quiet all the chatter that Allicock has been doing since the fight has been announced.
"I train real hard too and I feel I will make him a target practice. Because he going around and hot up the place, so I just want to shut his mouth and done. Is long this thing going on, I just want everything done. I want mek he big head a target practice."
Other professional fights billed for tomorrow will see Anson Green facing Derick Richmond while Richard Williamson will face off with his former coach Orlan 'Pocket Rocket' Rogers.
On the amateur card,  Jamie Kellman takes on Kevon Mulling, John Moore will battle Shaquille Simeon, Cordel Walcott will fight Tyron Lashley and Quincy Boyce will face off with David Moore.
The four fights according to Technical Director of the Guyana Amateur Boxing Board (GABBA) Terrence Poole should be exciting.
"We know that we have four amateur bouts on the 27th edition and we always get four exciting amateur bouts. So in 2013 it will be no different you will find that in 2013 we start with a lot of juniors."
Poole said too that the GABBA did not only concentrate on clubs in Georgetown but sought out fighters from Berbice and Essequibo so that they can have an equal opportunity to compete for a chance to represent Guyana internationally.
Among the upcoming junior international championships are the Continental and the Junior World Championship.
"So we need to use these boxers to see where we could come up with our best team to represent us at these games. So you find that we start with these juniors because that is our nursery, that is where we have to start."
He said added that the association has a larger pool of boxers in it's nursery than in the elite class. "So it will definitely be four exciting bouts, because each of these boxers have the potential in them. And you will see for yourself come Friday night and take it from there."
Abdool said the programme has been running for close to three years and it has been a success.
"At the end of two years and 11 months we have six fighters who have qualified for the top 40 in the World which means that they are now ranked fighters and have rankings in the WBC. It includes Simon Hardy who is the CABOFE Welterweight champion in the 127 pounds, Dexter Marques at 112, Edmond DeClou at 160 pounds is the CABOFE Middleweight champion, Elton Dharry who is the 118 bantamweight champion, Clive Atwell who is an amazing fighter is lightweight champion at 140 and Shawn Corbin at 200 at cruiserweight."
Putting it into perspective Abdool said the Guyana Fight Night started out with the aim of helping young fighters, amateurs so that they become better fighters and are better exposed.
"So at every facet of the amateur level go a much better chance at competition. So one of the main objective was activity and as much activity as possible which has worked perfectly for us. Mr. Poole has always produced excellent fighters for us, his young fighters are now far more exposed than they were before and I think we are looking for much bigger and better things as time goes by."
At the professional division Abdool said the object was to ensure that there has been an increase of records. "That people fought good fights, fighting people that are on their par while trying to gain experience and exposure and finally getting them to regional titles. After regional titles to take them from there to world titles".
There are now six fighters who have the potential to go compete for world titles, "I think you can see that the boxing board has been making an attempt to ensure that people like DeClou and Dharry and the rest of them to get a chance to pick on people who are upwards in that top 40."
According to him, hopefully by the end of March, the board will be able to secure fights with boxers who are ranked in the teens. Dharry he said is trying to fight the number three ranked Mexican in his division.
Comments

Despite concluding the CONCACAF u15 Boys Championship with only one victory from four matches, Guyana Football Federation (GFF) President Wayne Forde said, he is delighted with the team's overall performance.

BASSETERRE, St Kitts, CMC – Ex-West Indies seamer Winston Benjamin has been appointed head coach of Leeward Islands Hurricanes for the upcoming Professional Cricket League campaign.
(Reuters) – Manchester United's Paul Pogba is the world's best midfield player and has the potential to win the Ballon d'Or in the next five years, the Frenchman's club and national team mate Anthony Martial has said.

(Barbados Nation) Live performances by Barbadian soca stars Peter Ram and Lil Rick will add to the sizzling party atmosphere when Barbados Tridents clash with Guyana Amazon Warriors, in the opening home match of the 2017 Hero Caribbean Premier League next Tuesday, August 29 at Kensington Oval.
New Amsterdam (NA) Warriors secured their finals berth in the Berbice Amateur Basketball Association (BABA) League Championship, downing Ithaca Hardliners 59-57 on Sunday at the Ithaca Basketball Court.