Last year's bronze medalist at the Junior Caribbean Cycling Championships Raynauth Jeffrey, yesterday sped off with the feature 35-lap Invitational race when national cycling Coach Hassan Mohammed and Ricks and Sari Agro Industries Limited staged an 11-race cycling meet at the National Park circuit, Thomas Lands.
This is the 20th year that Ricks and Sari Agro Industries Limited has teamed up with Mohammed to sponsor the 'Teach Them Young' programme.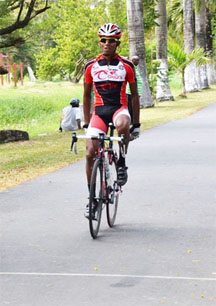 Jeffrey, 18, won the event in one hour, 16 minutes and 56 seconds, leading junior star rider and Team Coco's Guyana club mate Raul Leal, last year's Senior Road race champion, Orville Hinds, John Charles, Akeem Wilkinson and Rastaff O'Selmo into the top six.
Hinds, Charles, Wilkinson and O'Selmo are all natives of the mining town of Linden.
Jeffrey (three) and Leal (one) also earned prime prizes as did Robin Persaud (two), Junior Niles (one), Geron Williams (one) and Raymond Newton (one).
The feature event which pedaled off with 34 riders, started at a fair pace but Jeffrey and Newton separated from the field in the second lap until they were caught by the chase peloton of Leal, Alonzo Greaves, Persaud, Williams, Niles and Oselmo in the 10th lap
This group of riders journeyed together until they were caught in the 28th lap by the chase pack led by Warren '40' McKay, Wilkinson, Hinds, Paul Choo-Wee-Nam and others. at this point the race was up for grabs but the talented Jeffrey had winning on his mind.
During the 33rd lap, Jeffrey found another gear, broke away from the field and never looked back to easily claim the first cycling event of 2013.
Raphael Leung won the BMX boys' 12 to 14 years, two-lap race ahead of Britton John and Keon Harris respectively.
Rashedi Ceres won the boys' nine-to-12 years, three-lap race ahead of Shemroy Grannum and Thuran Gharbarran respectively.
Before the feature event, Niles rode off with the veterans' under-50, five–lap first place trophy and the prime prize beating Stephen Fernandes and US-based Berbician, Wilbert Benjamin who placed second and third respectively. Makel Diaz took top honours in the three-lap BMX boys' Open race ahead of Adrian Sharma and Khemraj Sanichar.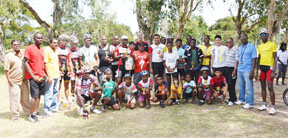 In the 12-to-14-years, boys and girls, three-lap race, Alfie Sonaram, Hazina Barrett and Leung were the top three finishers in that order. The prime prize also went to Sonoaram,
In the five-lap veterans' over-50 race, Virgil Jones was first followed by Lancelot Rose and Dwayne Ramsey respectively.
Maurice Fagundes won the veterans' over-60 years' race ahead of Harry Lall. Fagundes and Lall were the only two riders in that category. Leal won the juniors and juveniles 10-lap race in a time of 25 minutes and 12 seconds ahead of Alonzo Ambrose and Akeem Arthur.
The race for upright cyclists was won by Ozia McAully with Keon Thomas placing second and Stephano Husbands crossing the finish line third.
The two-lap BMX boys' six-to-nine years' race was won by Jeremiah Harrison with Isaiah and Christopher Sahadeo pedaling second and third respectively. At the prize giving ceremony, Mohammed thanked the representatives of Ricks and Sari for their sponsorship and the cyclists for participating in the meet and making the programme a successful one.
He also announced that the National Sports Commission will sponsor an 11-race cycle programme next Saturday as well as a 40-mile road the following day from the Demerara Harbour Bridge to Bushy Park and back. The cycling coach revealed that he has already received sponsorship for races in February and March.
Presentations of prime prizes, hampers and trophies were made by Sven D'Olivier, Production Manager and Accountant Shahzir Ali of Ricks and Sari.
Comments

Yesterday, in perfect conditions for racing at the National Park, Paul DeNobrega sprinted off with the spoils of the feature 35-lap event of the fifth Banks DIH's Non-Alcoholic 11-race programme.
Back Circle will battle Tigerbay, while Future Stars will oppose ESPN in the semifinal round, following quarter-final wins on Friday, in the 3rd Annual Xtra Beer 'Ballers in the Summer' Street Football Championship.

The Guyana Amazon Warriors' horror run in this year's edition of the Caribbean Premier League (CPL) continued yesterday, as they crumbled to yet another defeat, this time falling by seven wickets to top of the table Trinbago Knightriders at the Guyana National Stadium, Providence.

BIRMINGHAM, England, CMC – West Indies suffered a humiliating innings and 209-run defeat in the historic day/night opening Test after losing 19 wickets in a devastating capitulation on Saturday's third day at Edgbaston.
Guyana's Men's and Women's teams will have the opportunity to be crowned as Caribbean Champions when the NLA XXV Senior Caribbean Squash Championships conclude today in Kingstown, St.