Singh is new GABA president
President of the Colts Basketball Club Michael Singh won the presidency of the Georgetown Amateur Basketball Association (GABA) on Saturday at the Cliff Anderson Sports Hall.
Singh was the only nominee for the post.
Melanie Patriots' Kevin Amsterdam is the Vice-President while  former national player Ian `Tusie' Andrews is the new secretary. Darcel Harris  is the treasurer  and  Adrian Hooper, the assistant secretary/treasurer.
Colts President, Michael Singh is expected to become the new President of the Georgetown Amateur Basketball Association (GABA) when the association holds its AGM and Elections today at the Cliff Anderson Sports Hall. Following GABA Vice-President, Kester Gomes' assertion last week in an interview with this newspaper that the future of the association is in the affiliated clubs' hands, an AGM and Elections was called.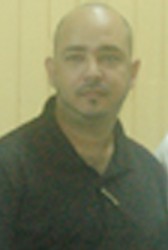 Gomes told Kaieteur Sport yesterday that a meeting was held among the clubs and it is decided that the new Executive will be elected at 3pm tentatively at the Mecca of local basketball which is the Cliff Anderson Sports Hall.The current only executive of the association following widespread resignations last year, which had also included former President, David Carto, had asked all fourteen affiliated clubs to submit the nomination for President, Vice-President, Secretary, Treasurer and Assistant Treasurer/Secretary before Wednesday. Each club is required to have two representatives at the meeting.
The GABA last held elections in February of 2011 and the constitutional life of the Executive is two years, which means that elections were due next month. "After the meeting on Sunday, there was a decision to bring forward the AGM and Elections," Gomes said.
Carto had stepped down from the post, citing what others referred to as 'personal reasons' when contacted last year. His move came in the middle of an extensive and impressive GABA League, which was aimed at resuscitating interest in the sport in Georgetown. Carto had taken over the position in 2011 form popular local designer, Trevor Rose.