World Boxing Council (WBC) CABOFE bantamweight champion, Elton 'The Bully' Dharry has denied calling out three-division champion Clive 'The Punisher' Atwell or former world rated super bantamweight boxer, Leon 'Hurry Up' Moore but stated that he will step in the ring with anyone that makes the bantamweight limit.
"I never called out Atwell or Moore" said Dharry when Stabroek Sport spoke with him on Sunday at the Andrew 'Sixhead' Lewis Boxing Gym.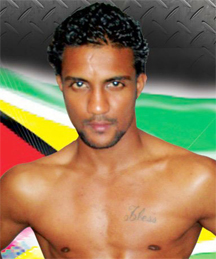 "They are calling my name and I am a man I'm not just a little guy they need to leave my name out of their mouths including Leon Moore, I read in the news that I called these guys out, in boxing there are divisions and Atwell and Moore are in heavier divisions than I am, from what I read in the news I felt disrespected and I don't like that".
The Bully added "I'm not the type of guy to run my mouth I have been coming back to Guyana for eight years and I've stayed quiet and handled my business in the ring and for me to get disrespected by my own people I don't appreciate that so if either one of them want to fight me let them come to my weight and I will fight them, I am the bantamweight champion I don't have a problem fighting anybody at that weight, I am willing to fight any body in my division".
When quizzed on if he would meet either Atwell or Moore in a catch weight bout Dharry said: "It don't make sense for me to fight a catch weight fight, what am I going to gain fighting these guys in a catch weight fight, that is why a lot of fighters are not going far with their talent, they do a lot of crap and end up messing up their careers with this catch weight nonsense.
"If they want to fight me let them come to my division, I'm the boss of my division, I don't need them if they want me I am the champion of bantamweight and if they want me let them make the weight and sign the contract and lets fight, I'm not willing to fight anybody out of my division" Dharry declared.
Dharry, who has a record of 11 wins, five losses and a draw, has been accused of building his record against journeymen instead of facing reputable opponents stated that he fights whoever is put in front of him and that he has proven himself by defeating the likes of WBC flyweight champion, Dexter Marques.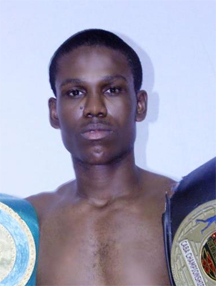 "I fight whoever is in my division, I have to fight these guys (journeymen) because there is nobody for me to fight, the last person they had was Dexter (Marques) and he gave me a good fight but I have proven myself even when I was supposed to get beaten up."
The 27-year old stated that in 2013 his goal is to shed the reputation of fighting boxers with losing records starting as soon as next month when Pearl Vodka and Dharry Promotion stage a pro card.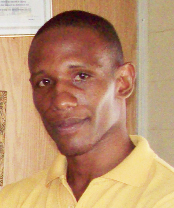 "You want to see me prove myself come out February 24th I will be in the ring with some undefeated fighter or former champion or one of the contenders in the world that makes sense to me, these guys (Atwell and Moore) don't make sense to me I would gain nothing from fighting them I would have everything to lose."
According to Dharry, Atwell the local featherweight, lightweight and CABOFE junior welterweight champion as well as Marques and Lennox 'Too Sharp' Allen are scheduled to face opponents yet to be named on next month's card.
Dharry has knocked out his last five opponents; the last four opponents have a total of 11 wins and 23 losses.
Comments

Yesterday, in perfect conditions for racing at the National Park, Paul DeNobrega sprinted off with the spoils of the feature 35-lap event of the fifth Banks DIH's Non-Alcoholic 11-race programme.
Back Circle will battle Tigerbay, while Future Stars will oppose ESPN in the semifinal round, following quarter-final wins on Friday, in the 3rd Annual Xtra Beer 'Ballers in the Summer' Street Football Championship.

The Guyana Amazon Warriors' horror run in this year's edition of the Caribbean Premier League (CPL) continued yesterday, as they crumbled to yet another defeat, this time falling by seven wickets to top of the table Trinbago Knightriders at the Guyana National Stadium, Providence.

BIRMINGHAM, England, CMC – West Indies suffered a humiliating innings and 209-run defeat in the historic day/night opening Test after losing 19 wickets in a devastating capitulation on Saturday's third day at Edgbaston.
Guyana's Men's and Women's teams will have the opportunity to be crowned as Caribbean Champions when the NLA XXV Senior Caribbean Squash Championships conclude today in Kingstown, St.