CANBERRA, Australia,  CMC – Opener Kieran Powell narrowly missed out on a century while Ramnaresh Sarwan made a timely return to form with a half-century but West Indies still made a losing start to their tour of Australia with a 23-run defeat to the Prime Minister's XI here today.
In a high scoring contest at Manuka Oval, the PM's XI piled up 333 for six off 50 overs and then restricted West Indies to 310 all out off 49 overs, with the left-handed Powell hammering 92 and Sarwan stroking 63.
Exciting all-rounder Andre Russell chipped in with a daring 54 from 24 balls down the order but the order proved too tall for the tourists.
Asked to bowl first after losing the toss, the West Indies attack was put to the sword by Alex Doolan (87), Usman Khawaja (69) and Jono Dean (51) who all cashed in with half-centuries.
The Windies seamers were punished for their short length early on and leaked runs, and it needed the guile of off-spinner Sunil Narine to put the brakes on the free scoring Aussies.
He finished with two for 32 from his ten overs, knocking over former Australia captain Ricky Ponting (15) and wicketkeeper Peter Handscomb (0) in successive deliveries in the 36th over, to put himself on a hat-trick.
However, fast bowler Tino Best's ten overs went for 84 runs while captain Darren Sammy's nine overs of medium pace yielded 72, and seamer Dwayne Bravo's ten overs bled 75 runs.
They suffered from an attacking opening stand between Khawaja and Dean who put on 87 off 74 balls, and a 94-run second wicket partnership off 105 balls between Khawaja and Doolan.
Dean smashed eight fours and two sixes off just 49 balls before holing out to substitute Jason Holder at long-off off Dwayne Bravo in the 13th over.
Medium pacer Kieron Pollard (2-37) accounted for Khawaja and Doolan at different stages of the innings, but after much damage had been done.
The left-handed Khawaja carved out nine boundaries off 81 balls while Doolan struck faced 98 deliveries and counted six fours and a six.
Even when Doolan departed in the 44th over, James Faulkner slammed an unbeaten 44 from 28 balls and Brad Haddin, 39 from 28 balls in an upbeat 62-run, sixth wicket stand off 37 balls, to finish the innings on a high.
West Indies started positively, with Powell and Johnson Charles (34) putting gon 83 from 69 deliveries. Powell faced 97 balls and struck five fours and two sixes while Charles plundered a pair of fours and sixes in a cameo 32 ball knock.
Charles was run out by Khawaja in the 12th over but Powell and Sarwan then furthered the Windies' cause with an 89-run second wicket stand.
Sarwan, who struggled with 61 runs from eight innings in the recent Caribbean Twenty20, found his touch with an 83-ball innings that included four fours.
The stand ended when Powell retired hurt with leg cramps and his departure led to a decline where the tourists lost four wickets for 45 runs to slump to 224 for five in the 41st over.
A 51-run, sixth wicket stand off 30 balls between Sarwan and Russell revived the Windies hopes, with Russell in particular flaying the Aussie bowling to all parts of the ground in clobbering three fours and five sixes.
Both fell in a mad dash for runs in the dying stages, however, as the last four wickets went down for 35 runs in the space of 22 balls.
PRIME MINISTER'S XI
U Khawaja c Narine b Pollard 69
J Dean c sub (Jason Holder) b DJ Bravo 51
A Doolan c Charles b Pollard 87
*R Ponting b Narine 15
+P Handscomb st Thomas b Narine 0
B Haddin b Best 39
J Faulkner not out 44
A Turner not out 3
Extras (lb8, w17) 25
TOTAL (6 wkts, 50 overs) 333
Did not bat: A McDermott, G Sandhu, Fawad Ahmed.
Fall of wickets: 1-87 (Dean, 12.2 overs), 2-181 (Khawaja, 29.5), 3-215 (Ponting, 35.3), 4-215 (Handscomb, 35.4), 5-267 (Doolan, 43.2), 6-329 (Haddin, 49.3)
Bowling: Best 10-0-84-1 (w6), Sammy 9-0-72-0, Russell 3.4-0-22-0 (w1), Narine 10-2-32-2, DJ Bravo 10-1-75-1 (w5), Charles 0.2-0-3-0, Pollard 7-0-37-2 (w1).
WEST INDIES
J Charles run out 34
K Powell ret. hurt 92
R Sarwan c McDermott b Faulkner 63
DM Bravo c Doolan b Fawad Ahmed 6
DJ Bravo b Faulkner 18
K Pollard c wkp Handscomb b McDermott 2
*D Sammy c Sandhu b Turner 3
A Russell c Dean b Faulkner 54
+D Thomas c & b McDermott 4
S Narine not out 7
T Best b Faulkner 2
Extras (lb11, w13, nb1) 25
TOTAL (all out; 49 overs) 310
Fall of wickets: 1-83 (Charles, 11.3 overs), 1-172* (Powell, ret. not out), 2-179 (DM Bravo, 30.5), 3-201 (DJ Bravo, 35.4), 4-219 (Pollard, 39.1), 5-224 (Sammy, 40.2), 6-275 (Sarwan, 45.2), 7-283 (Thomas, 46.4), 8-307 (Russell, 48.2), 9-310 (Best, 49)
Bowling: McDermott 10-0-63-2 (w3), Faulkner 10-1-54-4 (w3), Sandhu 9-0-59-0 (w2, nb1), Turner 10-0-62-1, Fawad Ahmed 10-0-61-1 (w1).
Result: PM's XI won by 23 runs.
Man-of-the-Match: J Faulkner.
Toss: Prime Minister's XI.
Umpires: Stuart Grocock, Tony Ward; TV – Ian Lock.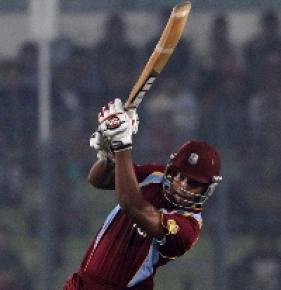 Comments

PORT OF SPAIN, Trinidad, CMC – Trinidad and Tobago's Prime Minister Dr Keith Rowley has warned that West Indies could face relegation from the top tier of international cricket if the regional game continues in its current state of crisis.
NEW DELHI, (Reuters) – Royal Challengers Bangalore learnt the hard way that star power does not always guarantee success after succumbing to the lowest ever score in the Indian Premier League (IPL) in Sunday's match against the Kolkata Knight Riders.
COLOMBO, (Reuters) – A fit-again Angelo Mathews will lead Sri Lanka in June's Champions Trophy in England and Wales, the cricket board announced yesterday, unveiling a 15-member squad which also includes maverick paceman Lasith Malinga.
CAPE TOWN, (Reuters) – Former South Africa bowler Lonwabo Tsotsobe has been charged with match fixing and has been suspended immediately after a lengthy investigation, Cricket South Africa said yesterday.

PORT OF SPAIN, Trinidad, CMC – Colin Munro smashed a sensational maiden Twenty20 hundred but it proved in vain as Guyana Amazon Warriors produced an audacious run chase to shock Trinbago Knight Riders by six wickets here Saturday night.