ROSEAU, Dominica,  CMC-Former president of the Dominica Football Association (DFA), Patrick John, has sued the DFA over his suspension in the wake of FIFA's infamous bribe for vote scandal.
John has filed a lawsuit against the DFA seeking more than EC100, 000 dollars in lost wages and allowances.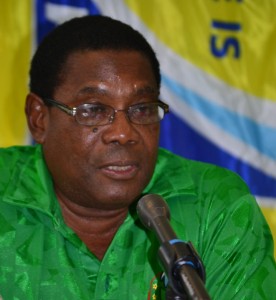 He is also asking the court to reinstall him as president of DFA so that he can finish his term which would have expired July 2015.
In 2011, John was banned by the FIFA disciplinary committee for two years and later a DFA conference voted unanimously to suspend him for the remainder of his term.
In the suit, filed by his lawyer J. Gildon Richards, John challenged the decision of the DFA conference to suspend him, labeling it as "disciplinary action made in total disregard and abrogation of the rules and procedures prescribed by the Constitution of the DFA ".
John, a former Prime Minister of Dominica, claims that the DFA's decision and its wide publication have caused him to suffer "much physical stress, psychological and emotional distress…"
John found himself in hot water with FIFA who had initially charged him for accepting US 40,000 dollars in cash to support Mohamed Bin Hammam in an election campaign against President Sepp Blatter.
However, last month, the Court of Arbitration for Sport (CAS) cancelled hearings after John withdrew his appeal against a new FIFA charge which instead found him guilty of infringing its statutes.
Comments

MOUNT MAUNGANUI, New Zealand, CMC – West Indies Under-19s' title defence ended in shambles with a heavy 76-run defeat to South Africa Under-19s, but controversy accompanied their disappointing exit from the ICC Youth World Cup here Wednesday.

NEW DELHI, India, CMC Superstar Chris Gayle headlines several top-tier West Indies players who will join over 1 000 players in the highly anticipated Indian Premier League auction scheduled for month end.

BELFAST, Ireland, CMC Two-time former 50-overs champions West Indies maybe the highest seeded side in the ICC World Cup qualifiers but they hold no terrors for minnows Ireland.

With only one day remaining for the registration process of the Guinness Greatest of the Streets West Demerara/East Bank Demerara zone, approximately 24 teams have submitted their participation forms for the qualifying stages.

Coach of the already crowned champions of the 2017/18 edition of Cricket West Indies Regional four-day first-class championships, Esaun Crandon, has suggested that there will be little tinkering to the squad set to take on the Trinidad and Tobago Red Force in their final round match, which begins at the Guyana National Stadium tomorrow.