PERTH, (Reuters) – Seamer Mitchell Starc grabbed a second successive five-wicket haul and George Bailey his maiden international century as Australia beat West Indies by 54 runs in the second one-dayer at the WACA today.
West Indies put up a better fight than in the nine-wicket defeat in Friday's opener but Bailey's unbeaten 125 pushed Australia to 266 for seven and Starc (5-32) helped dismiss the Windies for 212 to give the hosts a 2-0 series lead.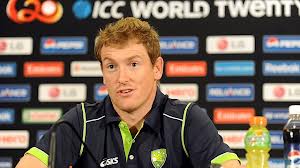 There was controversy too, when the television review system was employed to help Starc claim the wickets of Kieran Powell (83) and Devon Thomas (0) in successive balls, the latter given out caught behind to much disbelief.
A promising but ultimately unsuccessful day at the WACA for West Indies was summed up by tailender Sunil Narine, who smashed sixes off the first four balls of one Glenn Maxwell over but was stumped on the sixth.
Maxwell finished with figures of four for 63 but Starc was again the pick of the bowlers after skittling the top order with three early wickets and returning later as West Indies lost five men for 20 runs.
Australia suffered a collapse early in their innings and Bailey had to put on 100 from 123 balls for the seventh wicket with James Faulkner (39) to rescue them from 98 for six less than half way through their 50 overs.
The 30-year-old saved his best until the end of the innings, however.
After reaching his century with a six over long-on in the penultimate over, he hammered three sixes, a four and two runs off the last six balls to finish unbeaten on 125.
"Few bonus ones at the end there," Bailey said in a televised interview. "It was just about getting a partnership when James Faulkner came out. We were looking at 200.
"We were backed up again with the ball, Mitchell Starc is on fire at the moment."
Powell and Dwayne Bravo (45) looked like doing a similar job for West Indies when they put on 126 for the fourth wicket but the latter's dismissal prompted a major collapse.
The West Indies  were highly embarrassed by their humbling in the opening clash of the five-match series and their fielding at least was much improved.
Four of the first five Australian batsmen to fall were caught while the fifth, skipper Michael Clarke, was clean bowled for 16 by Dwayne Bravo.
For pure reflexes, Darren Sammy's effort to dismiss Matthew Wade (16) was the pick of the bunch as the skipper snatched a rocket of a ball out of the air with one hand.
Australia innings
A. Finch c DM Bravo b Holder 11
U. Khawaja c Powell b Roach 3
P. Hughes c DM Bravo b Sammy 21
M. Clarke b DJ Bravo 16
G. Bailey not out 125
M. Wade c Sammy b Narine 16
G. Maxwell b Sammy 0
J. Faulkner c Powell b Sammy 39
M. Johnson not out 16
Extras (lb-10, w-9) 19
Total (for seven wickets, 50 overs) 266
Did not bat: M. Starc, C. McKay
Fall of wickets: 1-16 2-25 3-56 4-56 5-93 6-98 7-198
Bowling: Roach 10-0-51-1, Holder 10-1-56-1 (w-5), Sammy 10-0-48-3 (w-2), DJ Bravo 10-0-67-1 (w-2), Narine 10-0-34-1
West Indies innings
C. Gayle lbw Starc 4
K. Powell lbw b Starc 83
R. Sarwan lbw Starc 0
DM Bravo lbw Starc 14
DJ Bravo c Wade b Maxwell 45
K. Pollard c Finch b Maxwell 1
D. Thomas c Wade b Starc 0
D. Sammy c Faulkner b Maxwell 8
J. Holder run out 9
S. Narine st Wade b Maxwell 24
K. Roach not out 0
Extras (lb-13 w-11) 24
Total (all out, 38.1 overs) 212
Fall of wickets: 1-10 2-10 3-33 4-159 5-166 6-166 7-168 8-179 9-209
Bowling: Mckay 6-0-32-0 (w-3), Starc 8-1-32-5 (w-4), Faulkner 7-0-40-0 (w-1), Johnson 9-0-32-0 (w-3), Maxwell 8.1-1-63-4
– –
Australia lead five-match series 2-0.
Around the Web