Govt condemns WICB for disrespecting Guyana's Court
Dr. Roger Luncheon, Head of the Presidential Secretariat and Cabinet Secretary said on Thursday that Cabinet has condemned the West Indies Cricket Board (WICB) for its disregard of Guyana's High Court ruling with respect to sports and the administration of sports especially cricket.
"International cricket in Guyana, the inclusion of eligible Guyanese cricketers in the West Indies team and participation of Guyanese teams in regional cricket tournaments are all deemed by Cabinet as non- negotiable," Dr Luncheon stated.
"Equally condemned, was the continuing permissive and objectionable role of the West Indies Cricket Board in their defence of the discredited GCB executives and implicitly joining them in defiance of the Court ruling," Dr. Luncheon said.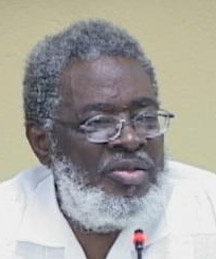 According to the Government Information Agency (GINA) Cabinet reiterated its stance on governance in sports and sports administration, particularly cricket at Tuesday's Cabinet meeting which reviewed the status and recent developments of cricket in Guyana namely the Demerara Cricket Board and Guyana Cricket Board election of office bearers.
He said the government strongly condemned those elections to constitute both the DCB and the GCB explaining that Cabinet also condemned the dismissive attitude displayed by the DCB and the GCB to the injunctions issued by the Court.
He said that the WICB, although aware of the legal issues surrounding the GCB, nonetheless sent representatives to observe the recent elections of the GCB "and proceeded to anoint the new office bearers."
Cabinet, Dr. Luncheon, said was however, reassured by the tabling of the Cricket Bill in Parliament and by the expectation of the enforcement of the laws of Guyana as they apply in this regard.
He pointed out that Contempt of Court proceedings have begun against those who defied the Court injunction.
Dr. Luncheon said that the Cricket Bill, which was tabled in the National Assembly last December by Minister of Culture, Youth and Sport, Dr. Frank Anthony, was not altogether different from similar legislation in CARICOM countries.
"Both Government and the Parliamentary Opposition are aware of governance issues in cricket administration in Guyana to the extent that the Cricket Bill seeks to address comprehensively this issue of the governance of the sport in Guyana. We, in the administration, continue to anticipate a favourable outcome of Parliamentary consideration of the Cricket Bill," he added.
"I would like to see the WICB ignore now, not only the court rulings, but enlarge their culture of disrespect to Guyana by ignoring also, or encouraging to be ignored, the laws of Guyana," Dr. Luncheon declared.