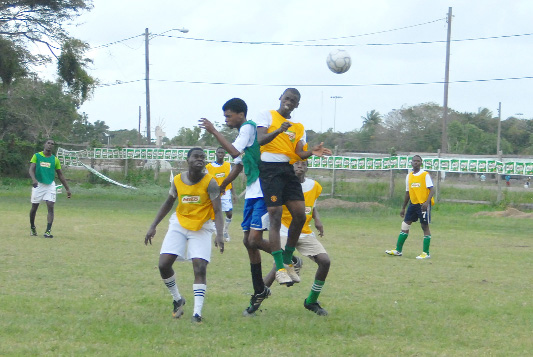 A double from Richard Ishmael's Ray Stanton powered the aforementioned institution to a crushing 6-1 victory over Sophia Special School in the latest round of the Milo U20 schools football tournament.
Played at the Ministry of Education Ground located on Carifesta Avenue, on Sunday, the first half kicked off with Sophia Special School getting the better of the opening exchanges, dictating the early tempo through their unorthodox but effective passing.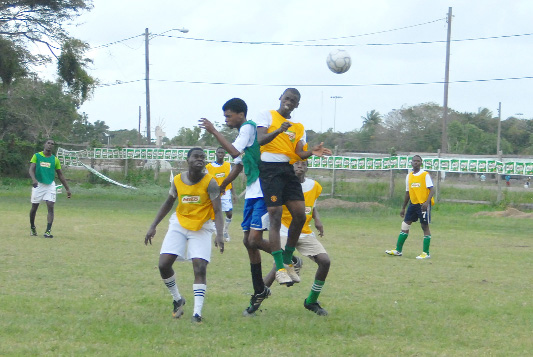 Slow out of the proverbial blocks, the Woolford Avenue boys were rightfully punished as Sophia took the early lead compliments of a Runako Hunt strike in the third minute. Buoyed by their recent domination of their more favoured adversaries, the Sophia boys continued to press forward, looking to consolidate their advantage.
Sophia's recent preeminence was short-lived as Ishmael, through their inspirational leader and talismanic forward Renaldo Dover, restored equivalence to the score line in the 16th minute through a well-taken strike.
The resulting goal served as the catalyst for Sophia's demolition as attacking opportunities became common place.
The Ishmael outfit began to find space through their attacking trident of Dover, Raphael Fowler and Stanton, who began to torment the physical backline of the Sophia unit.
Richard Ishmael's attacking impetus continued as they consolidated their position with two additional goals registered in the space of four minutes through Fowler and Stanton in the 19th and 22d minutes, breaking the will of their dogged opponents.
Struggling to mount a creative fight back, a look of resignation took over the Sophia unit as they were reduced to pedestrians, with halftime looming. The second half progressed in the same manner with Richard Ishmael Secondary dominating proceedings and Sophia Special palpably under siege. Desperately searching to find a foothold into proceedings, the boys from Sophia began to throw bodies forward in attempt to find a creative outcome, only to found wanting, as poor passing and mistimed passes littered their output.
Creatively effectual and offensively potent, the game continued in its lopsided nature as further goals registered in the 41st,  44th and 47th minutes to Stanton, Orandy Roach and Kristoff Watts respectively, effectively putting the game beyond reach. In the opening fixture of the day, Carmel Secondary hammered an abject North Ruimveldt Secondary 7-2 compliments of a Jamal Hamilton helmet trick in the second, 31st, 57th and 59th minutes while Wesley Greenidge 24th, Marlon Nedd 45th and Moses Gritten 47th providing assistance.
Keron Johnson in the ninth minute and Shemar DeSouza in the 59th minute were on target in a losing cause for North Ruimveldt.
In the final game, New Campbellville Secondary easily disposed of Central High 8-0 through a Shamar Barrow helmet trick in the eighth, 14th, 30th and 47th minutes while Keon David, 21st and 55th, Shemar Fraser 35th and Ammonickie Poise 45th adding their name to the scorecard.
Comments

Guyana Amazon Warriors left a packed house heartbroken after folding to the Jamaican Tallawahs by two runs in a thrilling final over, as they began their home leg of this year's Caribbean Premier league (CPL) with a school boyish display, last evening at the Guyana National Stadium, Providence.

DUBAI, England, CMC – Reigning champions West Indies Under-19s will be part of history, when they kick off their title defence of the ICC Youth World Cup (YWC) against hosts New Zealand Under-19s.

Guyana ended their Group-F campaign in the CONCACAF Boys U15 Championship on a winning note, edging St.

BIRMINGHAM, England, CMC – A day that started brightly ended in typical uncertainty for West Indies, after Alastair Cook and Joe Root plundered hundreds to give England an early hold on the historic first Test on Thursday.
BASSETERRE, St. Kitts, CMC – A strong all-round performance from Javeor Royal propelled Jamaica Under-19s to a four-wicket victory over ICC Americas Under-19s in the Regional One-day youth tournament on Thursday.