Acting president of the Guyana Football Federation (GFF) Franklin Wilson has signalled his intention to run for of president of the GFF when that body stages its annual general meeting in April.
Wilson's decision to run is however subject to certain conditions being met.

"It's up to the associations. As I said before I will not get into a dogfight but once the associations see that I should be back there and they vote along those lines I am happy to accept nominations and will continue to work for the development of the sport," Wilson told Stabroek Sport in an exclusive interview.
According to Wilson since he assumed office it was a challenge.
"But naturally, like anything else in life, you would have good days and bad days but it think we have been able to rise above the waves, rise above the challenges and we were to sort football out for the good of the game and going forward I think, things can only get stronger."
Wilson, who took office after former president Colin Klass was suspended by FIFA, the world governing body for football, said now that the electoral committee is in place, they federation is just working on a few nitty-gritty's like advising members of that committee of their  responsibilities.
"That being said a number of the other associations you know as well will have to have their elections. I think the referees are on target for theirs later this month. Linden Association is on target for theirs this month as well and a few others are in line for theirs as well. So I think things are progressing pretty nicely so far and everything will be fine at the end."
Asked whether all the executive positions on the GFF will be contested, Wilson said yes.
"Based on the agreement that we would have made with the GFA when the FIFA/CONCACAF team was here, all the position will be up. But prior to that, we had staggered elections and I think it is something that we would have to relook again."
Wilson said once all the positions are filled at the same it gives way to continuity in the executive.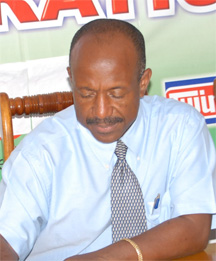 "But we will have to look at it again (staggered elections), but at the moment based on all that has happened before, we have agreed to have elections for all the executive positions on the GFF.
While nine sub-associations are part of the GFF, only seven may be eligible to contest the elections once they meet the requirements outlined in the constitution.
The seven are: Georgetown Football Association (GFA), West Bank Football Association (WBFA), East Bank Football Association (EBFA), Upper Demerara Football Association (UDFA), Berbice Football Association (BFA), Coaches Association, Referee's Council, and the Women's arm.
The Essequibo and Rupununi Football associations, which are governed by Interim Management Committees (IMC), are not eligible.
Wilson said no IMC will be allowed to vote.
He added that having their voting rights reinstated is solely dependent on their preparedness in fulfilling the criteria which is in the constitution.
"Once an association fulfills that requirement they are then allowed to become full members of the Guyana Football Federation."
He said it might be challenging to have elections in the Rupununi.
"The geographic of that area makes it very, very challenging for us to really have the kind of grip that we want to have in that area. But we continue to support them nonetheless. Every year we have coaching and referees' programmes done in the Rupununi."
According to signed agreement between the GFF and the GFA, the GFF elections should be held no later than April 15th.
Apart from Wilson, other names that are being mentioned in football circles as possible contenders for the position of president of the GFF are: A Partnership for National Unity and Attorney at Law Joseph Harmon, Colonel Bruce Lovell of the Guyana Defence Force (GDF), General Secretary of the Georgetown Football Association (GFA) Christopher Matthias, Attorney at Law Gordon Gilhuys and President of the Alpha United Football Club and People's Progressive Party (PPP) Member of Parliament, Odinga Lumumba.
Comments

A resurgent Guyana Amazon Warriors side completed a comprehensive seven wickets victory over the out-of-sorts St Lucia Stars to cruise to their second consecutive home win in the Caribbean Premier League (CPL) at the Guyana National Stadium, Providence, last evening.

BARCELONA,  (Reuters) – Barcelona are suing Neymar for 8.5 million euros ($10.00 million) for breach of contract as they want him to return the bonus he was paid when he signed a new five-year deal just nine months before joining Paris St Germain, the Spanish club said yesterday.
(Reuters) – Cristiano Ronaldo will have to serve his five-match ban for pushing a referee after the Spanish sports court (TAD) rejected Real Madrid's appeal against the length of the suspension, Spanish media reported yesterday citing court officials.

A 90th+3 minute strike secured Western Tigers a 1-1 draw with Georgetown Football Club (GFC), when the Corona Beer Invitational Football Championship continued on Monday at the GFC ground, Bourda.

Despite concluding the CONCACAF u15 Boys Championship with only one victory from four matches, Guyana Football Federation (GFF) President Wayne Forde said, he is delighted with the team's overall performance.