BRIDGETOWN, Barbados, CMC- Ashley Nurse spun a web around Guyana to set up a comfortable five wicket victory for Barbados in their second round Super50 match at Kensington Oval here yesterday.
Nurse, an off break bowler, befuddled the middle order to grab top figures of four wickets for 22 runs to help bowl out Guyana for 111 in 40.3 overs.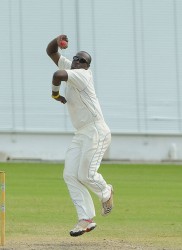 Medium pacer Christopher Jordan snatched three wickets to aid Guyana's collapse after Jason Holder triggered the demise with two early strikes before the home team cruised to victory at 114 for the loss of five wickets.
A decent 37 run partnership for the first wicket offered promise for the visitors after the Bajans won the toss and sent them in.
However, two quick wickets in three balls by Holder threw the innings into turmoil.
Holder first removed Trevon Griffith for 17, caught at wicket by Shane Dowrich off an outswinger and  a few balls later , Rajendra Chandrika, caught at gully by Javon Searles for 14.
A third wicket stand between Leon Johnson and Assad Fudadin was Guyana's best effort to rescue an innings in distress against spin and medium pace.
Johnson, top scored with a well played 28 and Fudadin who was run out for 25, put together 44 important runs.
But the introduction of Nurse and with help from Jordan spelt more trouble for Guyana as three more wickets fell quickly for the addition of only 19 runs.
Johnson, pushing forward, was leg before wicket by Nurse, Steven Jacobs, advancing, was caught at mid-off by Kyle Mayers off Jordan for ten and skipper Christopher Barnwell was brilliantly caught low, left-handed by captain Kirk Edwards at short midwicket off Nurse for nought.
Guyana struggled to put any other significant partnerships together and only two batsmen, Johnson and Griffith, surpassed twenty runs.
The last five wickets fell for the addition of only 12 runs after they dangled on 99 for the loss of five wickets.
Jonathan Carter was unbeaten on 38 and Shane Dowrich 28 not out as Barbados reached 114 for five in 25.1 overs.
Scoreboard
GUYANA
R Chandrika c Searles b Holder               14
T Griffith c wkp Dowrich b Holder         17
L Johnson lbw b Nurse                              28
A Fudadin run out                                        25
S Jacobs c Mayers b Jordan                     10
*C Barnwell c Edwards b Nurse                0
+D Christian c wkp Dowrich b Jordan   6
Z Mohammed not out                                  4
P Wintz lbw b Nurse                                     0
D Bishoo c wkp Dowrich b Jordan          0
R Beaton c Searles b Nurse                        1
Extras (lb1, w4, nb1)                                    6
TOTAL (all out, 40.3 overs)                    111
Fall of wickets: 1-34, 2-37, 3-81, 4-99, 5-99, 6-102, 7-108, 8-109, 9-110, 10-111.
Bowling: Jordan 10-2-24-3, Holder 9-4-15-2, Searles 7-0-35-0, Mayers 6-1-14-0, Nurse 8.3-1-22-4.

BARBADOS
K Brathwaite c Barnwell b Wintz                    10
R Boucher hit wkt b Wintz                                 21
*K Edwards b Beaton                                             4
K Hope lbw b Wintz                                                0
J Carter not out                                                     38
K Mayers c Jacobs b Beaton                               4
+S Dowrich not out                                              28
Extras (b1, lb3, w5)                                                9
TOTAL (5 wkts, 26.1 overs)                             114
Did not bat: J Holder, C Jordan, A Nurse, J Searles.
Fall of wickets: 1-18, 2-29, 3-30, 4-42, 5-64.
Bowling: Beaton 9-1-29-2, Wintz 6-0-40-3, Jacobs 2-0-8-0, Bishoo 5-0-14-0, Mohammed 4.1-0-19-0.
Result: Barbados won by five wickets.
Points: Barbados 4, Guyana 0
Toss: Barbados.
Umpires: J Blades, N Cook (ENG).
Comments

BIRMINGHAM, England, CMC – Inexperienced West Indies will hope to silence their many detractors when they clash with a dominant England in the historic day/night opening Test at Edgbaston here today, in what is likely to be their sternest challenge in recent times.

World Youth silver medalist, Daniel Williams along with CARIFTA Games gold getter Chantoba Bright and South American Junior silver medallist Joanna Archer will spearhead Guyana's 26-member Track and Field team during the Inter Guiana Games (IGG) in Suriname next weekend.

The Guyana Amazon Warriors will play their first home game of the 2017 edition of the Caribbean Premier League (CPL) against the Jamaican Tallawahs this evening at 6:00 pm at the Guyana National Stadium, Providence.

(Reuters) – Serena Williams aims to defend her Australian Open title next year, the American saying the rapid return to action would only give her around three months to prepare after giving birth to her first child.

Guyana got off to a fabulous start yesterday, by winning three matches when play began in the team events at NLA XXV Senior Caribbean Squash Championships in Kingstown, St.