Bryan ready to defend U21 Mash TT title
National men's singles champion Nigel Bryan is mentally ready to compete in the 2013 edition of the Guyana Table Tennis Association (GTTA)/ National Sports Commission (NSC)Mashramani Table Tennis tournament which continues tomorrow the National Gymnasium.
Bryan won the 21-years- and-under Open title in last year's event and is very confident of his chances of repeating this year. The Titans Table Tennis Club player said that he is very excited to compete in this tournament and will be looking to step up and capture the Mashramani Men's Singles title as well.
Bryan finished third in the senior category of this tournament last year which was won by seasoned player Paul Meusa. Even though he has not been training as much as he should have, Bryan said that his mental preparation is on-point and that should be enough to spur his success.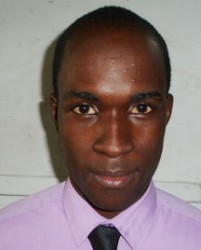 "I've not really been training much you know. I only really started back doing the physical stuff last week but I've been watching a lot of table tennis videos lately and I know I'm ready," Bryan, who turned 20 years old, last month said.
The former Caribbean junior under 15 champion said, "It's all about you know, mind over matter, so I know I can do it."
When asked about his main challengers, the fearless racquet wielder stated that he is not worried about any of his opponents but focussed only on his game.  Bryan said that he views this tournament as a stepping stone and a much needed warm up for the GTTA National championships next month where he is eagerly awaits the opportunity to defend his title.
While some of Guyana's top campaigner such as Paul David and Christopher Franklin will not be in competition, Bryan will have to contend with Edinho Lewis and Joel Alleyne, both of whom have been in top form recently.  Lewis had defeated Bryan en-route to his victory in the Hopkinson Mining Company Men's Open singles in December.  Tomorrow's matchups are slated to begin at 1700hrs (5pm).