St. Stanislaus College, Georgetown Cricket Club (GCC) and Hikers retained their titles on the final day of the Hikers Hockey Club Junior Indoor Tournament Sunday at the National Gymnasium on Mandela Avenue.
St. Stanislaus edged out arch-rivals North Ruimveldt Multilateral in the final of the Global Technology sponsored Schools tournament.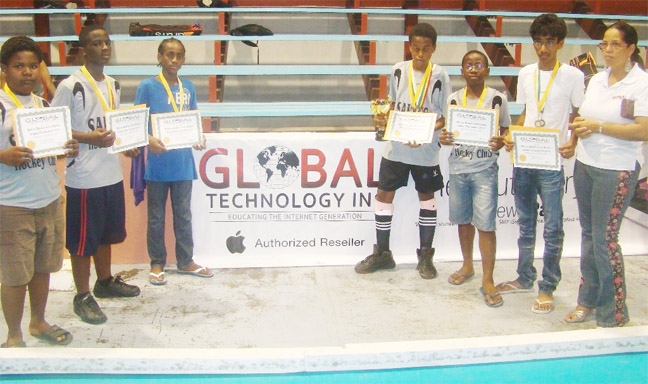 Christ Church Secondary secured the third position.
Saints team which comprised Shemar Boston, Hilton Chester, Paramanand Dindial, Ezekiel Springer, Nicholas Nervas, Troy Hodge and Edmond Chinian battled their way to the title staving off a strong challenge from the North Ruimveldt side.
In addition to trophies and medals all the players on the winning team as well as the MVPs of this category each received gift certificates worth $40,000 in computer training classes complements of the sponsors – Global Technology.
Hilton Chester of Saints and Shania Riley of Christ Church were the respective Most Valuable Players of the Global Technology Schools competition,
From the start of the Woodpecker Products sponsored Under 21 categories it was evident that the GCC girls and the Western Union Hikers boys teams   were in a league of their own and both finished the tournament in dominant fashion to retain their titles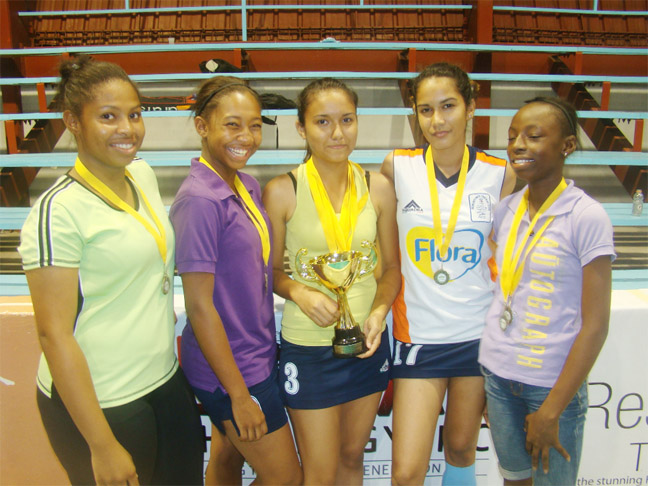 GCC girls successfully defended their Woodpecker Products Under-21 title beating into second position Western Union Hikers.
Hikers Under-21 Boys however turned the table on their GCC counterparts to retain the coveted Woodpecker Products title.
Special prizes were also given to Makeda Harding (Marian Academy) and Nicholas Nervas (Saints) who were adjudged the most promising players, while Romichelle Brumell (Hikers) and Omar Hopkinson (Old Fort) were the most improved players.
Aliyah Gordon (GCC) and Travon Younge (Hikers) received similar honors in the under-21 category.
Junior Development Coordinator of Hikers Hockey Club, Robert Fernandes expressed the club's gratitude to the Guyana Hockey Board, the Ministry of Sport and the Staff of the National Gymnasium for making the facility available for the tournament at the closing ceremony. He also thanked the sponsors and singled out the tournament volunteers and junior coaches of the clubs and schools for their hard work and dedication to the development of the sport.
On the opening day of the two-day programme, Marian Titans won the Ark Pet Shop Under-13 competition with victory over Saints in the final. Marian Harlem Shakes copped the spot.
GCC had won both the James Service Centre Under-16 boys and girls title.
Around the Web