World renowned professional squash star Nicolette Fernandes was humbled and elated about being named senior sportswoman of the year by the National Sports commissions for an unprecedented seventh time this year.
The 29-year old Fernandes was adjudged the winner of the award once again this year while acclaimed West Indies batman Shivnarine Chanderpaul won the sportsman of the year award for the sixth time.  No other athlete has won the award so many times  and as a matter of fact, apart from Fernandes and Chanderpaul, former West Indies captain Clive Lloyd is next among those with the most wins of  the national sports award, winning it four times. Speaking exclusively with Stabroek Sport, Fernandes said that she had always stood in awe of winners of the award as a child. For this reason, every national award that she has won has been the fulfilment and expansion of a childhood dream.
"I remember as a child growing up when I heard that Jillian Griffith was the sportswoman of the year runner up and I remembered just being in awe of her and thinking I would love to even be just the runner up, so to win the award so many times means a whole lot to me, Fernandes added.
Fernandes now has more awards than multiple winners Marian Burnett and June Griffith combined. Fernandes said that while the number is impressive she feel nevertheless privileged and appreciative of the award as if it were her first, because every year represents a different accomplishment or milestone in her career. "You know sometimes when you receive something so often it tends to lose its importance?  But that's not the case here at all; this still feels as though it is my first. I feel privilege to receive the award once again," Fernandes explained.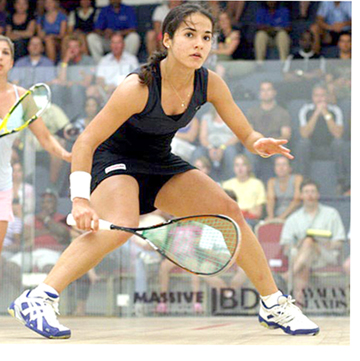 In 2012, Fernandes overcame a shoulder injury and surged back into impeccable form with her second win of an official win on the Women's International Squash Players' Association (WISPA) Tour at the Guatemala Open. Fernandes had been ranked 97 by WISPA in May, but after consistently beating higher ranked opponents and making it deep in WISPA tour events, Fernandes began 2013 ranked at number 32.
Fernandes finished the year with two emphatic tournament runs, making the last 16 of the Hong Kong Open and the Women's World Squash Open in the Cayman Island. In the later, Fernandes worked her way out of the qualifying round and managed to defeat former world number one Rachael Grinham.
Coming back from the injury to win the Guatemala Open and finishing up on a high note, were the highlights of Fernandes' 2012. Although those performances brought her success, Fernandes said that last year brought her much more than a few victories and good finished at world class events.
"It was a year of growth for me personally and professionally," Fernandes said.
"It was a good year after such a layoff. I think it was a big learning curve for me in terms of how I want to play the game. I learnt so much about myself last year," Fernandes added. Fernandes also stated that while she was the person who will be in the spotlight as the winner of the award, there were several persons responsible for her success. Fernandes singled out her coach Carl Ince, who incidentally won the coach of the year award once again, as well as her massage therapist Kathy Paul, physical trainer Andrew Hooper and training assistants Lee Fung-A-Fat and Nicholas Narain. Apart from the above mentioned persons who she referred to as her team, Fernandes said that her parents and other close relatives have also significantly helped mould her into the person she is today
Fernandes said that she was currently training and trying to implement all the vital insights that she had acquired from such an eventual year on and off the squash court. The reigning Caribbean championships and South American Games champions said that she has made quite a few changes to her game and like everything else, it will take time to for those changes to take effect and for her game to transition.
Fernandes who won the Central American and Caribbean Games gold medal in 2006 said had peaked at 27 on the WISPA ranking in 2007. Now four spots away from that, Fernandes does not look to be slowing down or plateauing anytime soon. Fernandes departs Guyana soon to return to the Women's Squash Association (WSA) World Tour and is expected to compete in the Malaysia Open later this month.
Around the Web