North Georgetown 'A' boys, St John's girls win at rugby
North Georgetown Secondary School 'A' Team (boys) played unbeaten throughout yesterday's Guyana Rugby Football Union (GRFU)/Hamson's Mash-ramani Tournament en route to lifting the winner's trophy of the one-day competition.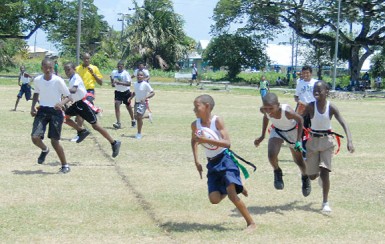 On their way to the final in which they defeated the school's 'B' team two tries to nil, North Georgetown 'A' trounced Covent Garden four tries to nil, and drew with St John's 'A' (boys) one-all.
St John's College girl's team defeated Marian Academy one-nil in both games to be crowned the female champions of the tournament. The tag tournament saw teams from Covent Garden, Tutorial High, St John's College, Marian Academy and North Georgetown and was played at the National Park Rugby Field as part of the five-year youth development programme of the GRFU which started in 2010.