By Duncan Saul and Iva Wharton
Acting president of the Guyana Football Federation (GFF) Franklin Wilson is currently in Zurich, Switzerland attending an International Federation of Football Association (FIFA) Development Committee meeting.
So says General Secretary of the GFF, Noel Adonis.
While in Zurich, Wilson will bring FIFA officials up to speed with Guyana's Goal Project.
"Mr. Wilson who left on Saturday and might be possibly returning on Thursday is attending a FIFA Developmental Committee meeting," said Adonis.
He added:"The GOAL project which is still in its first phase will be discussed as the status and current position of the programme must be made aware to the committee."
Earlier this year on his visit to Guyana, president of CONCACAF Jeffrey Webb had in-depth discussions with GFF officials on the stalled project.
According to Webb, FIFA was awaiting a report on the status of the project before disbursing the remaining funds.
"I think that from FIFA side they are waiting to receiving various reports on the monetary disbursement part as there is still two thirds of the funding left from the first project. So they will retender that in the next month or so," Webb had told this newspaper.
Launched by FIFA President Joseph S. Blatter in 1999, the Goal Programme allows each member association of FIFA to receive funding of US$400,000 for football developmental projects.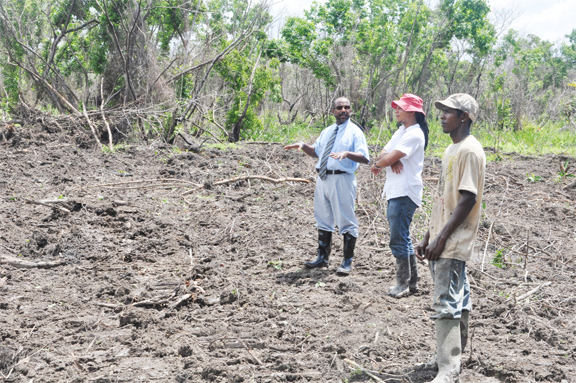 Each project must be submitted to the Goal Bureau for its approval; presently the initiative has provided support for over  five hundred development projects across the globe, with investment totaling USD 200 million dollars.
Initially Guyana was one of five countries identified for Goal Projects in 1999 along with Belize, The Bahamas, Nicaragua and St Lucia.
Two years later FIFA president Joseph Sepp Blatter visited Guyana supposedly for the historic turning of the sod for what was thought to be this country's first football stadium on land under the control of the University of Guyana.
But the sod was never turned and Blatter told the media that FIFA does not build stadia.
Since then numerous other countries have benefited from the Goal Project while the GFF has only managed to acquire a plot of land at Orangestein, East Bank Essequibo, for the facility.
In 2009, then FIFA vice president Jack Warner expressed his frustration with the GFF over the situation.
"One would have thought by now [Guyana] would have been on their third goal programme as many other countries have been and therefore there is some disappointment," Warner said somewhat guardedly.
Thierry Regenass, FIFA's Director of Member Associations, who accompanied Webb on the visit in January, said there was real potential for the future of Guyana's football once football officials were willing to work together.
According to Regenass, while there is only one Goal Project, there is still room for many more projects.
Adonis told this newspaper that the visit will also be used to highlight the possibility of acquiring other projects with regards to development for other associations namely the Upper Demerara Football Association (UDFA) and the East Coast Football Association (ECFA).
"Other projects have been spoken of and will be mentioned for possible implementation in the future at the developmental meeting with regards to improving and upgrading of facilities. The Linden and East Coast Associations have been highlighted as possible beneficiaries for these FIFA initiatives".
Pending approval of the congress, FIFA's Executive Committee has set the funding for each goal project at USD five hundred thousand for the 2011-2014 cycle.
Guyana's current goal project, which was approved by FIFA's Goal Bureau on December 3, 2006, was scheduled to commence on January 1st 2007 with work to start on the construction of the National Technical Centre.
Since getting approval seven years ago, a land cleaning exercise was conducted at the Orangestein, Essequibo Coast location while an architectural design was submitted but the project has simply stalled.
Breakdown of Goal projects by confederation:
1.    Asia: 124
2.    Africa: 143
3.    North, Central America and the Caribbean: 79
4.    South America: 29
5.    Oceania: 36
6.    Europe: 93
CARICOM States
1.    Antigua and Barbuda- 3 active goal projects
2.    Bahamas- 3 active goal projects
3.    Barbados- 2 active goal projects
4.    Belize- 4 active goal projects
5.    Dominica- 3 active goal projects
6.    Grenada- 2 active goal projects
7.    Guyana- 1 non active goal project
8.    Haiti- 4 active goal projects
9.    Jamaica- 3 active goal projects
10.    Montserrat- 1 active goal project
11.    St. Lucia- 1 active goal project
12.    St. Kitts and Nevis- 2 active goal projects
13.    St. Vincent and the Grenadines- 1 active goal project
14.    Suriname- 4 active goal projects
15.    Trinidad and Tobago- 2 active goal projects
Associate Member States of CARICOM
1.    Anguilla- 2 active goal projects
2.    British Virgin Islands- No Goal projects requested by this Member Association
3.    Cayman Islands-4 active goal projects
4.    Turks and Caicos Islands- 4 active goal projects
5.    Bermuda- 4 active goal projects
Non-Member States of CARICOM
1.    Dominican Republic- 4 active goal projects
(Information taken from FIFA website)
Around the Web