PORT-OF-SPAIN, Trinidad, CMC-Captain Merissa Aguilleira has welcomed the challenge of leading the Trinidad and Tobago cricket team on a tour of South Africa next month following successful series at the helm of the West Indies women's team.
The wicketkeeper/batsman says she is ready to represent her country for the first time this year when they tour South Africa from April 3 to 9.
Aguilleira, who led West Indies to victories against Sri Lanka and India, has admitted that leading the national team will require a different approach.
"It's all about adjusting yourself. I must say that I've been doing a lot with the cricket and going back to playing for my country is something that I've always loved doing," Aguilleira explained.
"It's all about applying yourself, and the people around me also help make my captaincy job a bit easier. And we've been doing that pretty well so it's all about consistency".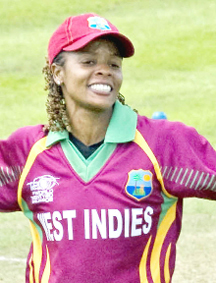 In February, the 27- year- old cricketer led the regional women's team to the World Cup final against Australia.
Aguilleira also led West Indies to an impressive 2-1 victory in the One-Day International as well as a 4-1 triumph at the Twenty20 Series against the Sri Lanka.
"The national team has been doing really well.
I think the Board has been doing a lot of extensive work by going out and having some international tours," said Aguilleira who was publicly celebrated in a motorcade last Friday by her Member of Parliament Clifton De Coteau (Moruga), the Life Sport programme, community members and family.
"So every two years we go outside and play. Two years ago we played against England, so it's all about exposure and getting the girls ready for regional tournaments".
Around the Web