Four-time Caribbean junior squash champion, Victoria Arjoon bounced back from her straight game loss to Steven Xavier on Tuesday night to defeat Ashley DeGroot last night when the Guyana Squash Association (GSA) and Toucan Industries' Kool Aid Junior Skill Level tournament continued at the Georgetown Club's squash facility.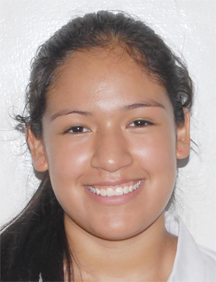 In the thrilling category A encounter, Arjoon played aggressively using efficient serves and quality drives to down DeGroot 11-9, 11-9, 11-7 on the second night of the tournament.
In another category A match up, Caribbean under 17 squash champion, Nyron Joseph, defeated national under-15 champion, Ben Mekdeci in straight sets, 11-8, 11-5, 11-3.
Results:-
Category B
Andrew Peroune lost to Akeila Wilshire 11-4,11-7,11-7
Taylor Fernandes defeated Avenash Odit 13-11,11-8,11-8
Larissa Wiltshire lost Pablio Mundini 11-7,14-12,11-6
Category C
Matthew Phang defeated Alex Cheeks 11-13 lost first 11-5,11-7,11-5
Shomarie Wiltshire defeated Mahendra Khusial 11-1,11-6,11-2
Rebecca Low defeated Christina Cheeks 11-2,11-0,11-8
Category D
Anthony Islam defeated John Phang 11-1,11-9,11-6
Michael Ramroop defeated Dennis Gomes in a marathon lost 7-11,11-9,11-9,11-4
Sarah Lewis defeated Savannah Mendes
11-3,11-7,11-9
Category E
Lucas Jonas defeated Makeda Harding 9-11-, 11-8,11-6,11-7
Kellyann Latchman won by walkover versus Neil Ramnauth
Maya Collins defeated younger brother Dominic Collins 11-1,11-5,11-2
Gianni Carpenter lost to Jael Gaskin 11-13 lost 11-4,11-3,11-4
Category F
Dimetrius DeAbreau defeated Eathan Jonas 11-7,11-5
Michael Alphonso defeated Gareth Da Silva 11-8,13-11
Around the Web