ROSEAU, Dominica, CMC – Off-spinner Shane Shillingford undermined Zimbabwe with another five-wicket haul before talismanic Chris Gayle stroked a typically entertaining unbeaten half-century, to put West Indies on top on the opening day of the second Test here  yesterday.
Shillingford finished with five for 59 as Zimbabwe, asked to bat first at Windsor Park, were bowled out for 175. The tourists were poised at 141 for four at one stage but collapsed meekly to lose their last six wickets for 34 runs.
Captain Brendan Taylor top scored with 33, opener Vusi Sibanda got 32 while Sean Williams, on Test debut, scored 31.
Part-time off-spinner Marlon Samuels weighed in with three for 15 while fast bowler Shannon Gabriel picked up two for ten.
Gayle then marched imperiously to 61 to propel West Indies to 114 for two at the close, just 61 runs adrift of an all important first innings lead.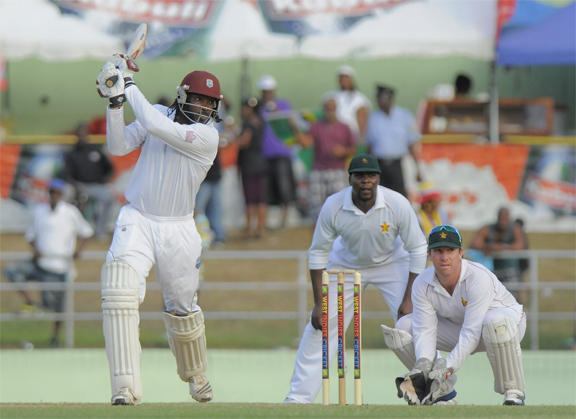 The hosts were stumbling at 35 for two after impressive seamer Kyle Jarvis (2-35) struck in successive overs but Gayle and Samuels, who was unbeaten on 26, have so far put on 79 for the third wicket.
Gayle has so far struck ten fours and a six in an innings lasting 84 balls while Samuels has stroked two fours and a six in 52 balls at the crease.
Zimbabwe showed no signs of the heavy drubbing they suffered in last week's opening Test in Bridgetown when Sibanda and Tino Mawoyo (8) gave them a solid start of 42, following a delayed start of nearly half-hour because of seepage.
The right-handed Sibanda was a show of class in an innings that lasted 29 balls, stroking six boundaries, including three in one over from out-of-sorts fast bowler Kemar Roach, in the fifth over of the morning.
He elegantly caressed the first delivery off the front foot through cover, repeated the shot off the back foot off the very next delivery before slashing over the slip cordon.
Mawoyo, who never really settled, was first to go when he offered no stroke to one from Gabriel that jagged back and watched as his off-stump was disturbed.
With no runs added, Zimbabwe were further set back in Gabriel's next over when Sibanda carelessly punched the third delivery – a full toss – to mid on where Roach took a low catch.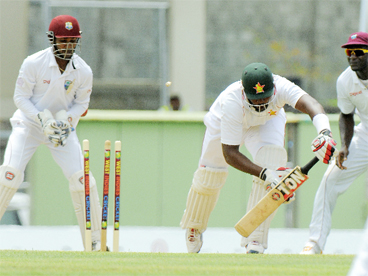 Hamilton Masakadza, who made 14 from 35 balls with two fours, shaped up nicely against the seamers but appeared rattled once Shillingford was introduced.
He swung wildly at the third delivery of the Dominican's first over and escaped with an edge over the wicketkeeper but misread the final ball, a doosra, and was comprehensively bowled at 64 for three.
Taylor and Craig Ervine (18) then guided Zimbabwe safely to the lunch interval, in a fourth wicket partnership worth 41.
However, Zimbabwe suffered yet another setback when Taylor fell in the fourth over after the interval after adding just five runs, bowled making a mess of a reverse sweep at Shillingford at 105 for four.
Williams and Ervine did well to hold up the Windies advance with a 36-run, fifth w
cket stand, stemming the flow of wickets. While Williams has faced 88 balls and struck three fours, Ervine survived 73 balls and counted two fours in his 18
Samuels made the breakthrough when he trapped Ervine lbw and Malcolm Waller (9) failed to hang around, lofting Shillingford to Best at mid-wicket .
On the stroke of tea, Graeme Cremer was taken at short leg at tea by Kieran Powell without scoring, to give Samuels his second wicket and leave Zimbabwe on 158 for seven.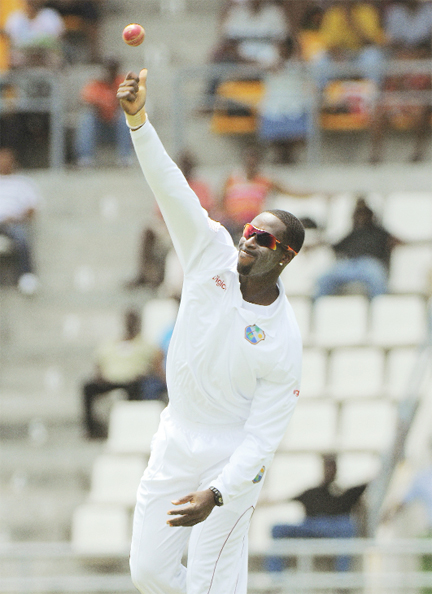 There was no fight from Zimbabwe, as the last three wickets tumbled for the addition of jut 17 runs in the first 29 deliveries after the break.
Gayle and Powell then put on a rollicking 35 off 40 balls, with the left-hander Powell reeling off a couple of scintillating strokes with five boundaries in 24 off a mere 22 balls.
Against the run of play, Powell was bowled off his pads and with no runs added, Darren Bravo wafted at the fourth ball he received – a wide delivery – and edged a catch behind without scoring.
Scoreboard
Scoreboard
ZIMBABWE 1st innings
T Mawoyo b Gabriel                 8
V Sibanda c Roach b Gabriel             32
H Masakadza b Shillingford             14
*+B Taylor b Shillingford                 33
C Ervine lbw b Samuels                18
S Williams c Powell b Samuels             31
M Waller c Best b Shillingford             9
A Cremer c Powell b Samuels              0
P Utseya lbw b Shillingford              9
K Jarvis not out                     1
T Chatara lbw b Shillingford             4
Extras (b10, lb4, w1, nb1)                 16
TOTAL (all out, 60.5 overs)             175
Fall of wickets: 1-42, 2-43, 3-64, 4-105, 5-141, 6-158, 7-158, 8-161, 9-171, 10-175.
Bowling: Roach 7-0-30-0, Best 10-0-32-0 (w1, nb1), Gabriel 8-6-10-2, Sammy 5-1-15-0, Shillingford 21.5-4-59-5, Samuels 9-3-15-3.
WEST INDIES 1st innings
C Gayle not out                     61
K Powell b Jarvis                     24
DM Bravo c wkp Taylor b Jarvis               0
M Samuels not out                 26
Extras (lb3)                      3
TOTAL (2 wkts, 27 overs)                 114
To bat: S Chanderpaul, +D Ramdin, *D Sammy, S Gabriel, K Roach, T Best, S Shillingford
Fall of wickets: 1-35, 2-35.
Bowling: Jarvis 7-2-35-2, Chatara 7-2-21-0, Masakadza 4-2-10-0, Cremer 6-0-27-0, Utseya 3-0-18-0.
Position: West Indies trail by 61 runs with eight wickets intact.
Toss: West Indies,.
Umpires: A Hill, R Martinesz; TV – B Oxenford.
Around the Web