Guyana Football Federation presidential hopeful and professional coach Ivan Persaud says he believes he can make a huge positive input to the game here.
Diminutive in stature but not in thought, the licensed Colombian Football Federation (CFF) professional coach in a recent interview with Stabroek Sport acknowledged "I can make a difference because you see what's going on and you know the problem and because of my studies I realised that I can play a big part in getting this thing reorganised so that we can really start on the development of football.
"I was really motivated by Mr. Wayne Dover who seconded me, he was the person who guided me in partnership with Sampson Gilbert as they also recognised and shared my vision that the development of the sport can be achieved from a technical perspective."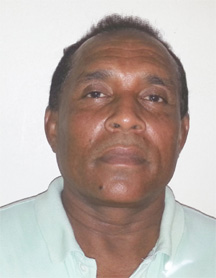 Hailing from the mining town of Linden, Persaud posited "Thanks to FIFA's development programmes which were launched by then FIFA Technical Director Joseph S. Blatter in 1975 before being expanded upon by the confederations and associations, there are no longer any 'small' or 'weak' national teams and as such, development from a technical perspective is needed."
"You have to remember I am not now coming into football, I have been in football all my life as I have represented the nation at both the junior and senior levels while also competing at the semi-professional and professional echelons.  I studied the game, as well as administrated the game, I am a qualified referee and because of my expertise with regards to football, my recent appointment was with the Golden Jaguars as the trainer where we reached the third round of the CONCACAF World Cup Qualifiers, being the highest level that Caribbean coaches have ever coached before," added Persaud.
Possessing a Degree in Professional Sport and Physical Activities, coach Persaud continued that while the current and previous administration have received millions of dollars in financial support over the years, no form of development can be boasted about, especially with regards to the women's game.
"In all the years we are affiliated to FIFA, all we got to show is a house in Campbellville, that's all we could have gotten in all these years of affiliation to the world body.  You know that they received millions of dollars in the past few years, but where is the money?  Do we have academies?  No, we don't.  Do we have little girls playing football? No we don't.  Our national women's team all come from America and Canada.  What happen to us? Why can't we have all the sub associations playing women football, even if we only play inter association?  Let's say we don't have clubs but every sub association should be mandated to do that," stated Persaud.
Pressed about his plans for development of the local game in totality if his presidential bid is realised, coach Persaud vowed that he intends implement a detailed three-phase approach beginning with a short term plan that will lead to a medium and eventually a long term map of how the sport should be evolved locally.  He stated, "To get it done, it involves a lot of hard work, concerning a lot of personnel working together for a communal good.  Even though we are talking about a long term development plan, we can't neglect what we have now."
"What I intend to do is to make sure we implement a developmental plan that is divided in three sections à la short, medium and long term plan in which you will see different aspects intertwining and merging with each other, which in the end will reflect what we are trying to accomplish and that is to improve performance, progress and in the end growth and development," said Persaud. He elaborated that the short term aim will be to focus on organising the respective associations and keeping them operational and active while working with the respective coaches and clubs to map out a platform for progression as they use the resources and facilities currently afforded to them.
"The watch words for us in this short term plan are consultation and inclusiveness, we have to stop giving people what we think they want, we have to talk to the associations and find out what they need right now because we have to divide everything and prioritise."   Infrastructure is a problem in Guyana, we have to face it.  We can't say that we going to start building a 6,000-seater stadium, how long will that take to build, we have to start now and use what we have and make the best use of it and slowly by slowly start changing situations."
Persaud opined that the medium phase will be used to take a grassroots approach to development, that is, the resuscitation of football in the schools must be addressed, and that an analytical approach with the incorporation of the sciences and building of proper infrastructure is essential to growth of the local game.
"Deeper involvement of the Pee Wee football is required; we have to become more involved with football in schools.  A grassroots approach of considerable proportions is warranted.  That's where your future stars will be born because our current technique and tactical understanding can't get us past teams like Mexico and Costa Rica.  I want to make sure we get it right and in order to do that we have to put these mechanisms in place."
"In regard to synthetic pitches, the gains outweigh the investment as they are essential to development because with these surfaces you can train twenty four/seven once you got lighting. These surfaces are basically applicable in any condition and needed for progression.  We also have to analyze player strengths and weaknesses and make modifications while giving them optimal advice.  Working on a theory of assumption is an exercise in futility as we cannot negate the science in this whole movement of development" declared Persaud.
Concluding on the final phase, Persaud stated, "For the long term, I see semi-professional football as a viable option where companies become shareholders in clubs, that's the only way it can happen.  But we have to make sure that these companies understand what we doing and what is the intention."
"People saying we have to run football like a business, but begging companies for help is not a business, having our own properties, through rentals of the aforementioned synthetic surfaces and creation of assets will facilitate us in generating our own funds.  We have to create an environment where we can generate our own funds so we won't have to go to the companies but they will come to us.  We have to try to do things for ourselves; it's a programme not a microwave thing.  If we start with that correct habit and system approach, maybe in 20 years we can get there, let's don't try to hurry this thing and say we want to go to the next World Cup, because we will just be heading for a fall and just end up using funds inappropriately," added Persaud.
Queried about the possibility if unsuccessful in his contest for the GFF presidency, if the prospect exists of working with GFF in any capacity, Persaud confirmed, "I am a professional coach and always willing to work for football development in Guyana.  I'm willing to work in a capacity or area that I will be effective and happy as the development of football in Guyana is the aim.  I will work with anyone; I would work with the devil to improve the game."
Questioned about the disillusionment surrounding the senior national team in  relation to the GFF and how would he rectify this situation if elected, Persaud affirmed, "Whatever we bargain with the players we have to come up with it.  Even if the GFF say they don't have money, I know the boys would play for free but is because the boys know that they got money and they using it for other things, that's why the players reacting like that because they hearing they got money here and there and then you aren't paying them.  These boys worked their pants off at training and I know that 'cause I trained them and they need to be remunerated like anyone else and if there is an agreement between the GFF and the players then the GFF should honour that agreement."
Quizzed as to what separates him from the other nominees and why should he be elected to the highest office in Guyana Football, coach Persaud stated,  "Currently I am the most qualified person I think in sport in Guyana and I have all the prerequisites that would assist me in ascending to a position of that stature.  I studied the game and its administration.  I represented the country as a player and now I'm a coach, referee and a teacher and can represent the nation at any forum as I speak four different languages."
Around the Web