Half mile/One mile defeated Goal Getters 3-0 on Wednesday during the fourth day of play in the Guinness Greatest of the Streets Linden Edition.
Opening their account in the sixth through a Steve Brewley strike, Half mile/One mile would effectively put the game to bed in the dying moments of regulation time compliments of Derrol Dantey and Beneakaman Smart in the 18th and 19th minutes respectively.
Mini Bus was also victorious on the evening, defeating the $100 Cars side by three goals to one. Second half strikes from Godfrey Johnson, Seon Brewley and Runnel Bristol in the 12th, 14th and 16th minutes respectively drove Mini Bus to success while Andre Venture briefly equalized for $100 Cars.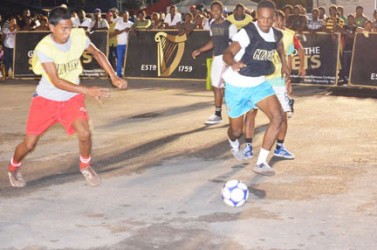 Coomacka edged The Amazings 1-0 compliments of an Ateba Edmonson's first half conversion in the fifth minute while Unique Unknowns needled Barsenal by a similar margin through a Ryan Woes sixth minute effort.
The Eagles beat Attackers 2-1 on the back of a Delon Charter brace in the sixth and 13th minutes with Allan Reece pulling one back for Attackers in the 14th minutes while Classic Six and Cherokee Park played to a nil-all draw. Speightland defeated Rough and Rugged 1-0 through a Ron Fiedkou effort in the fourth minute and Silver Bullets beat Star Boys 1-0 on a Clifton Alley 16th minute strike to end the night's scheduled proceedings.
Action continues tomorrow at the Wisroc/Amelia's Bus Park with eight slated fixtures. Top Class will oppose $100 Cars in the opener which will be followed by Exodus engaging The Amazings and Wisroc facing the unbeaten Half mile/One mile unit.
The other fixtures of the evening will be:
Pokerburg vs Classic six
Attackers vs Hard knocks
Street Vybz vs Silver Bullets
Team 25 vs Unknowns
Speightland vs TLC Russians
Around the Web