Managing Director of Howell Hinds Construction Company of Amelia's Ward, Howell 'Yellowman' Hinds made a donation of several trophies, medals and over $500,000 in cash incentives yesterday morning.
The donation will be used for several sport events which are set for the upcoming annual Linden Town Week celebration which runs from April 26 through to May 6.
Speaking of his company's investment in sport, Hinds, who is based in the United States, but has always had a yearning to help promote sport in Linden told those present at the Senior Supervisors Club (SSC) where the presentation was made, that his company is committed to spread the promotion of sport and has committed to this, being the second year of specific promotion when the town celebrates its anniversary.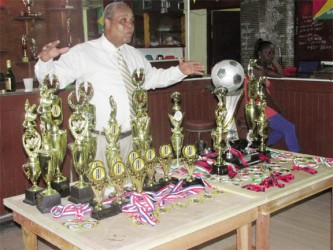 He said this year there will be competition in four-ball billiards, chess among school children only, dominoes and gin-rommy and perhaps a ball room dancing competition.
Recently Hinds was instrumental in having over $3M spent on the rehabilitation of the SSC and said he will continue to assist the club where all the activities will be played. He said "Your presence here is well appreciated as we plan for what is the second annual promotion of the network of sports planned for Linden Town Week. I am not sure what to expect in the future but this I know, that my company will continue to invest its money on condition that all its competitions are for the benefit for Lindeners."
He continued, "This is only the beginning and I hope you all appreciate this gesture. We are doing this with the intention that Linden will rise again to top sports in the country as it were years ago."
Around the Web