BASSETERRE, St Kitts,  CMC – Leeward Islands snatched their first points of the Regional Super50 Championship when they beat Barbados by 22 runs under the Duckworth/Lewis method here yesterday. Playing at Warner Park, the Leewards restricted Barbados to 164 all out off 46.4 overs, after being asked to bowl first in the rain-marred sixth round encounter.
They were led by seamer Tonito Willett who claimed career-best figures of six for 19 from ten overs.
Kyle Mayers top scored with 37 while Sulieman Benn (25), Rashidi Boucher (25), and Kraigg Brathwaite (24), all weighed in to keep Barbados afloat.
At one stage, the visitors were languishing at 79 for seven in the 30th over before Mayers and Ashley Nurse (17) put on a crucial 53 for the eighth wicket.
In reply, the Leewards reached 126 for five off 33 overs before rain around 4:30 pm ended the game prematurely, with Barbados behind on the D/L method.
West Indies one-day wicketkeeper Devon Thomas hit the top score of 36 while Jahmar Hamilton finished on 33 not out.
The victory was the first in five outings for the Leewards who are rooted to the bottom of the standings. Barbados received a strong start when Boucher and Brathwaite put on 49 off 58 balls for the first wicket.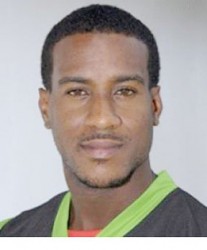 Boucher had faced 32 balls and struck five fours when he edged a cut onto his stumps in the tenth over, to give Willett his first wicket. Barbados then imploded spectacularly, losing their next six wickets for 17 runs, with Willett running through the middle order.
Brathwaite played across to Willett and was lbw at 62 for two in the 16th over and off the very next delivery, wicketkeeper Shane Dowrich was bowled, leaving the bowler on a hat-trick.
While this was safely negotiated, the slide continued until Mayers and Nurse came together to rally the innings.
Mayers faced 56 balls and counted four fours and two sixes while Nurse lashed two fours and a six, in a 25-ball knock.
In their turn at the crease, the Leewards crashed to 28 for three in the ninth over, courtesy of pacer Tino Best who finished with two for 28.
He bowled opener Lyndel Richardson for nine in the sixth over and had Shane Burton caught at the wicket without scoring in the ninth over.
Thomas responded well, however, clobbering three fours and a six off 49 balls while Hamilton struck four fours off 53 balls, in adding 46 for the fifth wicket.
Soreboard
BARBADOS
K Brathwaite lbw b Willett                      24
R Boucher b Willett                                   25
*K Edwards c Powell b Willett              10
+S Dowrich b Willett                                  0
J Carter c wkp Thomas b Willet             7
K Williams c wkp Thomas b Baker        3
K Stoute lbw b Willett                               0
K Mayers c Richardson b Burton      37
A Nurse lbw b Tonge                              17
S Benn c Tonge b Burton                      25
T Best not out                                             3
Extras (lb3, w9, nb1)                             13
TOTAL (all out, 46.4 overs)              164
Fall of wickets: 1-49, 2-62, 3-62, 4-65, 5-76, 6-76, 7-79, 8-132, 9-144, 10-164.
Bowling: Baker 7-1-23-1, Tonge 10-1-57-1, Martin 14-4-20-0, Willett 10-1-19-6, Athanaze 6-2-25-0, Burton 3.4-0-17-2.

LEEWARDS
K Powell st wkp Dowrich b Nurse         16
L Richardson b Best                                    9
S Burton c wkp Dowrich b Best              0
*S Joseph lbw b J Carter                        10
D Thomas lbw b Williams                      36
+J Hamilton not out                               33
T Willett not out                                       14
Extras (b1, w6, nb1)                                 8
TOTAL (5 wkts, 33 overs)               126
Fall of wickets: 1-21, 2-21, 3-28, 4-52, 5-98.
Did not bat: J Athanaze, G Tonge, L Baker, A Martin.
Bowling: Nurse 7-2-23-1, Best 6-0-28-2, Benn 7-0-24-0, Carter 4-1-14-1, Mayers 2-0-14-0, Williams 4-0-8-1, Stoute 3-0-14-0.
Result: Leewards won by 22 runs (D/L method)
Points: Leewards 4, Barbados 0.
Toss: Barbados.
Umpires: J Wilson, M Mukul (Bangladesh)
Around the Web