KINGSTON, Jamaica,  CMC – West Indies opener Lendl Simmons ended a run of low scores with a superb half-century to help steer Trinidad and Tobago to an exciting three-wicket win over Jamaica, with two balls remaining in their sixth round, Super50 encounter here Thursday.
Chasing 226 for victory, T&T finished on 229 for seven with the right-handed Simmons getting the top score of 87. When he fell in the 35th over at 144 for five, the visi    tors were still well adrift of their target
but Yannick Ottley punched an unbeaten 35 and Sherwin Ganga, 32, in a 60-run, seventh wicket stand to ensure T&T full points.
Leg-spinner Nkrumah Bonner finished with three for 48 while medium pacer David Bernard claimed two for 34.
Earlier, Jamaica were held to 225 all out in the 46th over, after they were sent in at Sabina Park.
Rookie batsman Andre McCarthy struck 88 and all-rounder Jermaine Blackwood, 85, to rescue Jamaica from a dodgy position of 47 for four in the 16th over.
Left-arm spinner Yannick Ottley, who claimed three for 37, rattled Jamaica early on as he accounted for opener Danza Hyatt (4), Bonner (17) and captain Tamar Lambert without scoring.
West Indies speedster Shannon Gabriel, who finished with four for 34 from his ten overs, had gotten the initial breakthrough when he removed Xavier Marshall without scoring in the first over of the day.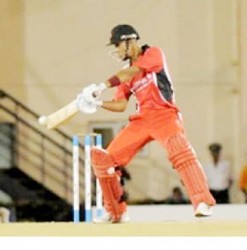 However, McCarthy and Blackwood got stuck in, adding 147 for the fifth wicket and reviving Jamaica's fortunes. The 25-year-old McCarthy, in his fifth one-day match but yet to play a first class game, struck nine fours and a six in a breezy innings that required just 107 balls.
Blackwood, meanwhile, produced a whirlwind innings, belting nine fours and four sixes off a mere 67 deliveries.
Once Blackwood departed in the 39th over, Jamaica's last five wickets tumbled for 31 runs.
T&T then lost Adrian Barath for nine at 13 for one in the fifth over before Simmons and Kjorn Ottley, who made 25, put the innings back on track with a 88-run, second wicket stand.
Simmons faced 121 balls and counted eight fours and two sixes, in the process breaking a lean streak that had seen him gather just 83 runs in his last five innings.
Ottley, meanwhile, hit two fours off 45 balls before becoming the first of Bonner's wickets, caught behind in the 25th over. They were rebuilding at 135 for two when they suddenly lost four wickets for 15 runs.
Sliding at 150 for six in the 37th over, T&T were boosted by Yannick Ottley and Ganga, to get within touching distance of their target.
Ganga fell in the 48th but with T&T needing three runs off the last over, Rayad Emrit (12 not out) lashed a boundary off fast bowler Andrew Richardson to secure victory.
Scoreboard
JAMAICA
X Marshall lbw b Gabriel                                      0
D Hyatt c Khan b Y Ottley                                   4
N Bonner c & b Y Ottley                                     17
A McCarthy lbw b Ganga                                   88
*T Lambert c wkp Ramdin b Y Ottley            0
J Blackwood c Ottley b Emrit                          85
+C Baugh b Gabriel                                                4
D Bernard Jr c wkp Ramdin b Gabriel           4
N Miller lbw b Gabriel                                         4
A Richardson lbw b Simmons                          1
S Cotterell not out                                                0
Extras (lb2, w16)                                             18
TOTAL (all out, 45.2 overs)                     225
Fall of wickets: 1-0, 2-4, 3-4, 4-47, 5-194, 6-211, 7-213, 8-220, 9-225, 10-225.
Bowling: Gabriel 9.2-2-34-4, Y Ottley 10-2-37-3, Emrit 8-0-45-1, Ganga 10-0-51-1, Cariah 2-0-22-0, Simmons 5-0-23-1, Khan 1-0-11-0.
T&T
L Simmons st Baugh b Booner                    87
A Barath b Richardson                                     9
K Ottley c wkp Baugh b Bonner                  25
J Mohammed lbw b Bonner                          7
*+D Ramdin lbw b Bonner                            2
I Khan c Richardson b Bernard                  0
Y Ottley not out                                              35
S Ganga c Marshall b Miller                        32
R Emrit not out                                                12
Extras (b7, w13)                                              20
TOTAL (7 wkts, 49.4 overs)                     229
Fall of wickets: 1-13, 2-101, 3-135, 4-142, 5-144, 6-150, 7-210.
Did not bat: Y Cariah, S Gabriel.
Bowling: Richardson 9.4-1-50-1, Bernard 10-0-34-2, Cotterell 8-1-45-0, Miller 10-1-32-1, Lambert 3-0-13-0, Bonner 9-0-48-3.
Result: T&T won by three wickets.
Points: T&T 4, Leewards 0.
Man-of-the-Match: Yannick Ottley.
Toss: T&T.
Umpires: G Brathwaite, P Gustard.
Around the Web