Slingerz Football Club,a compliments of goals on either side of half time defeated the Guyana Defence Force 2-1 to book their spot in the Mayor's Cup final as the semi-final round concluded at the Georgetown Football Club (GFC) ground Bourda on Thursday.
On the back foot due to the their early concession in the sixth minute to a Sherwin Caesar strike in the bottom left corner, the 'west side' unit would find the timely equaliser in the forty third minute through a Olvis Mitchell screamer into the top corner.
Opening up on the resumption of the second period, Slingerz would find the winner in the seventy eight minute, as Quason McAuley capitalized on an interception in the midfield area and upon receiving a lobbed pass in the eighteen yard box, clinically finished to beat the advancing GDF custodian.
In an invited comment captain of the victorious Slingerz FC Dwain Jacobs stated: "It was a difficult first half for us but we went back to the drawing board and came out and imposed our will. With respect to Alpha, my old team, football is played on the night and we hope to be victorious."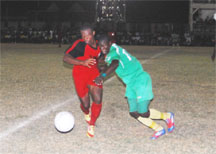 The opening game of the evening was controversially blown off with Alpha United leading Den Amstel Porknockers 2-0 compliments of strikes from Philbert Moffatt and Anthony Abrams in the second and forty eight minutes respectively.
However, the second goal resulted in the controversy.
The officiating referee upon awarding Den Amstel a free kick for an handball occurrence against Alpha, stated that the west side unit tried to take a quick free kick only for it to be intercepted and passed to Abrams who finished.
The goal would provoke a long debate between the Den Amstel outfit and the officials.
The officials ordered the Den Amstel side to get on with the game for which they refused and the encounter was duly stopped.
Rondel Hudson, captain of the Den Amstel side in an invited comment said: "It was slackness by the referee as it always seems that they are blowing against us. It seems like it always 11 plus three and simply poor refereeing and a lack of knowledge. He was blowing in favor of Alpha and when I tried talking to him he refused to listen to me."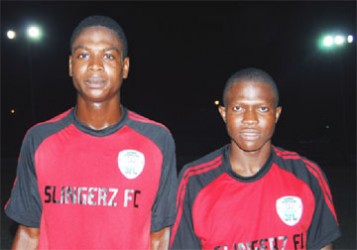 West Demerara Football Association President Jevon Rodrigues also weighed in:"If what was reported was accurate then it's an unfair advantage. Den Amstel worked very hard to get here and the officials should make informed and impartial decisions.
The finals of the Mayor's tournament takes place tomorrow with Alpha United engaging Slingerz FC at 20:30hrs in a mouth watering fixture and the third place playoff will see GDF opposing Den Amstel at 18:30hrs.
Around the Web