National Cycling Coach, Hassan Mohamed with the help of sponsors pedaled off 10 successful races in the first quarter of the season, five of which were won by the teenage trio of the newly formed Coco's Cycling Club.
Nineteen year-old star rider, Raynauth Jeffrey took pole position in three of those events while his club mates Raul Leal, 16 and Junior Sportsman of the Year, Paul DeNobrega, 19, won two others.
So is the success of these three young riders attributed to luck or talent and team work?
"Team work" said Jeffrey yesterday during an interview with Stabroek Sport.
Jeffrey, who stormed to victories in the season's opener feature 35-lap event (Ricks and Sari sponsored), the first leg of the Cheddi Jagan Memorial Road Race and the Diamond Mineral Water 35-lap event (lapping all but three of the 38 starters) added: "We have the talent and youth on our side but without us riding as a team we would not be so successful.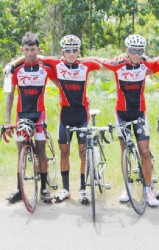 "It is all about team work," stated DeNobrega, who sprinted to victory in the third leg of the Dr. Cheddi Jagan 50-mile Memorial road race.
"We don't normally train together every day, only two days a week but in the race we ride as a team."
The gold medalist at last year's Junior Caribbean Cycling Championships added: "If you look at the races we won, it was all because of team riding, it is all about the tea, we ride a unit because it doesn't matter who from our club wins as long as it is from our club".
The same team work sentiments were echoed by Leal who won the feature 35-lap event of the Assuria Insurance Company 11-race cycle programme. Perhaps now local cyclists have finally understood the benefits of riding as a team especially in the grueling road races.
The local unit of the Miami based Coco's Cycling Club was formed in January, earlier this year.
Mohamed, who has tried unsuccessfully to instill team riding into the minds of the more experienced local cyclists especially in  the annual three and five-stage events which is dominated by foreign riders, stated that it is commendable that the young cyclists have embraced team work as it is the only way for success.
National cyclist, Alonzo Greaves won three events, the National Sports Commission (NSC) sponsored 35-lap event in the National Park and two R and R International sponsored races (one staged in the National Park and the other a 40-mile road race).
Fellow national cyclists, Warren '40' McKay (NSC 40-mile) and Robin Persaud (second leg of the Dr. Cheddi Jagan Memorial Road Race) pedaled in first in the other two events.
Mohamed will pedal off the 11th event for the season today when the ninth annual Universal Auto and General Supplies 11-race cycling programme is staged in the inner circuit of the National Park.
Around the Web