The star studded Hornets rugby team remained unbeaten while the Yamaha Caribs schooled the players from the University of Guyana (UG) in the last of a series of 10-aside Guyana Rugby Football Union (GRFU) organized games at the National Park yesterday.
The Hornets side made up of several national players, handed the Guyana Defence Force a stinging 22-12 defeat while the Yamaha Caribs routed the University of Guyana 50-12 in a one-sided affair.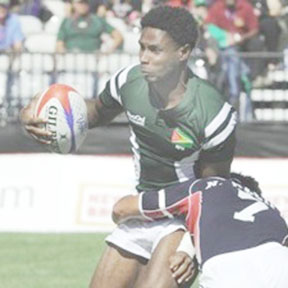 Tries by national players Elwin Chase, Blaise Bailey and national captain Ryan Gonsalves helped the Hornets to run away with a hard fought, entertaining win over the soldiers.
Jason Tyrell chipped in with a try while Gonsalves recorded a conversion to pad the score line.
Fellow national players Dwayne Schroeder (try and conversion) and Avery Corbin (try) heroics were not enough to defeat the Hornets.
National forward, Claudius Butts scored two tries and two conversions to lead the Caribs' drubbing of UG.
Tries were also scored by Carl Lewis (two) Soren Cox, Kevon David, national coach, Theodore Henry and Akeem Fraser. Henry and national players Richard Staglon (two) and Walter George also recorded conversions.
Lance Adonis (try and conversion) and Ryan Dey (try) were the scorers for UG's team.
After playing spiritedly last week to earn a 19-17 win over GDF, the UG side were thoroughly outplayed by the Caribs.
UG's captain Rondell McArthur cited indiscipline for the loss as he stated several players showed up late and were unable to start thus relegating UG an already inexperienced team to start several players who were without an accurate understanding of the game.
Before yesterday, the undefeated Hornets rugby team took the players from UG to school and taught them the finer points of rugby with a stinging 36-7 defeat two weeks ago and drew 5-all with the Caribs last week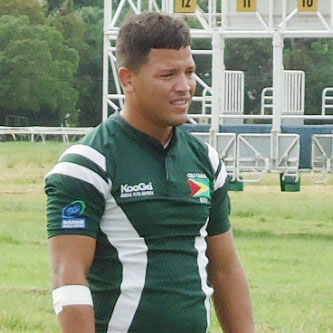 With yesterday's win, the Hornets earned a total five points with two wins and a draw to win the GRFU organized competition.
The Caribs finished with three (a win, a draw, and a loss) and UG and GDF ended on two points apiece as they bought lost two of their three games.
During the three-weekend competition, the players were assessed and some will be selected to train for the national team for international duties.
The union will hold their annual general meeting today at the Guyana Olympic Association (GOA) from 11:00hrs.
Around the Web